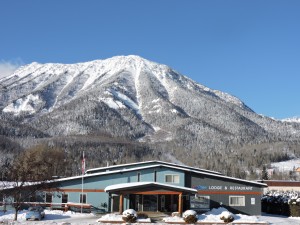 Many visitors travel to the Canadian Rockies to take advantage of the best winter sports in Fernie while staying at Red Tree Lodge. There are many things to do in Canada in the winter.  Try skiing, snowboarding, snowmobiling, fat tire biking, and snowshoeing. Fernie, BC weather brings the perfect temperatures for spending time outdoors.  Sunny bluebird days are meant for shredding fresh powder on the slopes! Find out why taking a trip to Fernie, BC during winter in Canada should be on your bucket list.
Skiing and Snowboarding
Fernie Alpine Resort is officially open for winter in Canada until April for those who are looking to ski and snowboard! Outdoor enthusiasts can head to the resort at 9:00 a.m. daily.  You can hit the slopes and enjoy as many as 142 runs.  There are a variety of green for beginners, blues for intermediates, and of course, black and double diamond runs for the experts! The resort has a thriving nightlife for those looking for things to do in Fernie after a day outdoors. No need to worry about packing your gear as you'll be able to grab rentals and last-minute winter gear at the Fernie Alpine Resort.
Snowshoeing in Fernie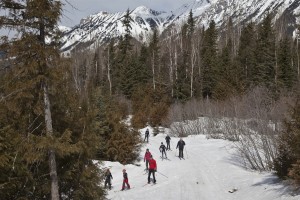 Explore the breathtaking natural wonderland of winter in Canada while staying in Fernie by trying something new like snowshoeing or cross-country skiing. The Fernie Nordic Society maintains a trail grooming report on their site.  You can also explore the Fernie trail system on your own or opt for a guided tour at Fernie Alpine Resort or Island Lake Lodge. You'll have the opportunity to traverse many different types of terrain.  There are old-growth forests with riverside views,  or explore the mountain trails with towering cottonwood trees.  All are available while spending time in Fernie, BC. Learn more about where to start, what to wear, where to rent gear, and the top locations for snowshoeing during winter in Canada, here!
How to Prepare for Winter Sports in Canada
Join us next month as we go over More Winter Sports in Fernie, which features snowmobiling and fat-tire biking. No matter what you do, be sure to wear the correct winter gear exploring the outdoors in Fernie, BC. Wearing lots of thin layers will allow you to shed layers throughout your winter activities. Wearing synthetic or wool socks is a must as you'll be sweating throughout your daily adventures.  You don't want to have wet feet throughout the afternoon! If you forget any essential outdoor winter gear, don't panic. Fernie, BC, has a variety of shops downtown where you can grab any last-minute items you may have left behind.
Package Deals on Winter Sports in Fernie
Fernie, BC has become a popular winter vacation destination. Many people visit to explore and try the different winter sports in Fernie.  We offer ski and stay packages and can help you arrange other sports like cat skiing and more as well.  Book now as our rooms at Red Tree Lodge tend to fill up fast during the beautiful season of winter in Canada. To get in touch with our welcoming staff about your upcoming getaway, please give us a call at 1-250-423-4622 or for convenience book online!