Winter Sports in Canada
Since there are so many outdoor activities and things to do in Canada in winter, we'd be limiting ourselves if we talked only about skiing, snowshoeing, and snowboarding. While many stay at Red Tree Lodge to take advantage of the beautiful Fernie, BC weather for skiing, we'd like to go over a couple of adrenaline-pumping winter sports that can't be done on foot. We're talking about fatbiking and snowmobiling! Both winter sports in Canada will get your heart rate up and adrenaline pumping. Without further ado, here's how you can take advantage of winter sports in Canada during your stay.
What is Fatbiking and Where to Do it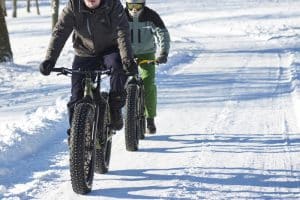 A fat tire mountain bike is a slightly different version of a regular mountain bike.  They feature wider tires for stability and to provide more traction in the snow. The best part about fatbiking is that it's excellent for both beginners and experts. Fernie Alpine Resort now features 8km of well-groomed trails.  They also offer fat tire mountain bike rentals and even offers guided programs for beginners on Thursdays from 5:00 p.m. to 8:00 p.m.
Perhaps you'd like to explore fatbiking on your own time. There are versatile fat tire mountain bike trails in Fernie, Canada that offer different challenges with clear signage. Beginners can explore the community riverside trails while intermediate fatbikers may enjoy the Montane area and new trails off Coal Creek Road. If you'd like a bit more of a challenge, try a singletrack trail at Mt Fernie Provincial Park. There you'll find other challenging paths as well as more comfortable options. Learn more about trail etiquette, locations, and one of the best new winter sports in Canada on the Tourism Fernie Services website.
Snowmobile this Winter in Canada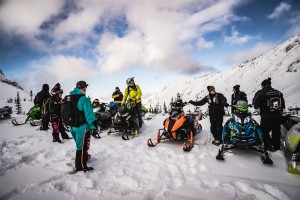 Looking to snowmobile this winter in Canada while on vacation? Fernie is the right town to get your fill of outdoor activities. The Fernie Snowmobile Association has every bit of information on snowmobiling that you'll need to know before your day out, including snowmobile events, a Fernie snowmobile map, up to date information on the grooming of the paths and so much more.  Plus our parking lot has lots of space for your trailer if you're bringing your own sled.
Ghostrider Motorsports is where you'll find sled rentals and gear that will set you up for a successful day out on the trails when you'd like to explore on your own. Elk Valley Snow Shepherds features snowmobile guides that can teach you all you need to know about snowmobiling this winter in Canada, especially when it comes to the skills you need to ride the backcountry terrain.
Book Now to Secure Your Spot
We've covered a whole plethora of winter sports in Canada, including snowmobiling, snowshoeing, fatbiking, skiing and snowboarding.  What are you waiting for? Book your trip to Fernie, Canada, before our rooms fill up! Winter in Canada is a popular and busy time of year in Fernie.  We suggest booking in advance to secure a spot for your upcoming winter escape.
Do you plan on bringing your own fat tire mountain bike? You'll be happy to know about our mountain bike amenities that are free of charge. Red Tree Lodge will also secure your bike in a storage room or for your convenience, and you may store it in your room if you choose. Learn more about our mountain bike-friendly amenities on our website. Our welcoming staff is eagerly awaiting your arrival, and please give us a call at 1-250-423-4622 to learn more!