Complimentary to all our hotel guests with daily rates, our hotel Breakfast Snack is available daily in the lobby from 8am-11am. Featuring muffins, fruit, yogurt, coffee, tea and hot chocolate; it's enough to get you going.
If you are planning on heading out before our Breakfast Snack is served, you can request a brown bag option. When you order the night before, we deliver your hotel breakfast right to your room. The brown bags will be complete with a piece of fruit, a yogurt cup, and a muffin. Coffee and tea is available in your room.
For those who may prefer a heartier option, the front desk is happy to recommend a nearby restaurant to suit your appetite. There are a few options close by for breakfast. The Blue Toque Gastro Diner is a popular spot (seating is limited so please be patient!), or you can grab a breakfast sandwich from Big Bang Bagels. Brunch options include the Bridge Bistro (just a few minutes walk away) or the Loaf downtown.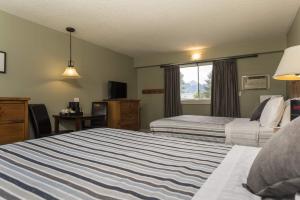 Of course, with a dining table in your room, a microwave, coffee and tea options, and a fridge, you may prefer to stay in for breakfast! Either use our guest kitchen to prepare a hot meal, or stay in your pjs and warm something up quickly in your room itself. Guests in our Superior and King rooms often enjoy breakfast on their balcony; there's nothing like a coffee and some fresh air with mountain views in the morning!
Smokehouse is not open for breakfast, however, groups and conferences can pre-book catered options.