Our guests have noticed for years that we take cleaning very seriously! They tell us in our testimonials and reviews all the time, but really its one of the most important ways for the hotel and staff to show how much we care about our guests.
We were so happy with our recent stay at Red Tree Lodge. The room was very comfortable and clean. The beds and pillows were perfect. They were very accommodating and we had a chance to also eat at the Smokehouse Restaurant and so yummy!! We will be back again!!!
British Columbia has now vaccinated over 80% of our eligible population and our case counts are dropping fast.  As a result, we are moving to Step 3 effective July 1st – CANADA DAY! 
This means we are welcoming recreational travel from all of Canada, and many other restrictions are lessened or removed.  However, masks and physical distancing are mandated by the provincial government in the Interior Health region of BC. 
Make your reservations now!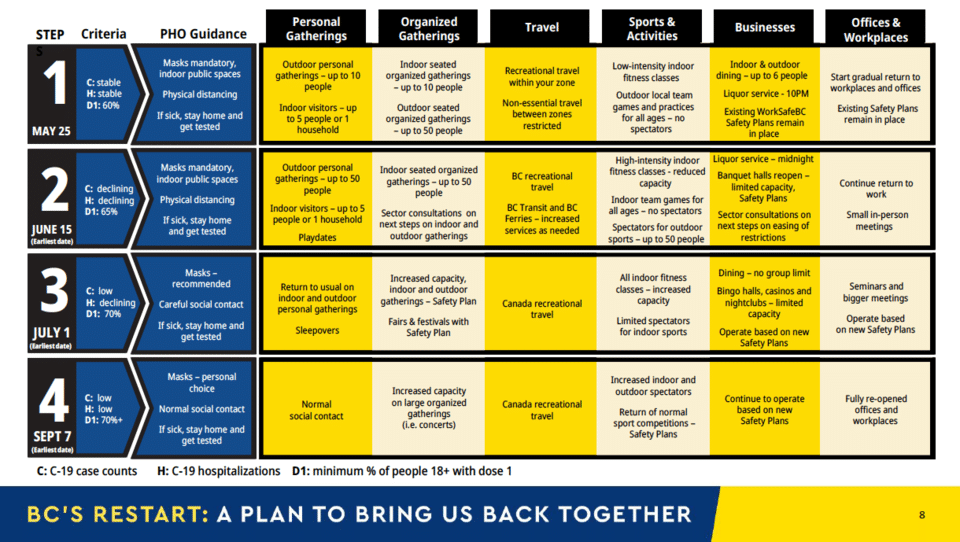 For more details and information, please visit the BC Government COVID travel advisory page.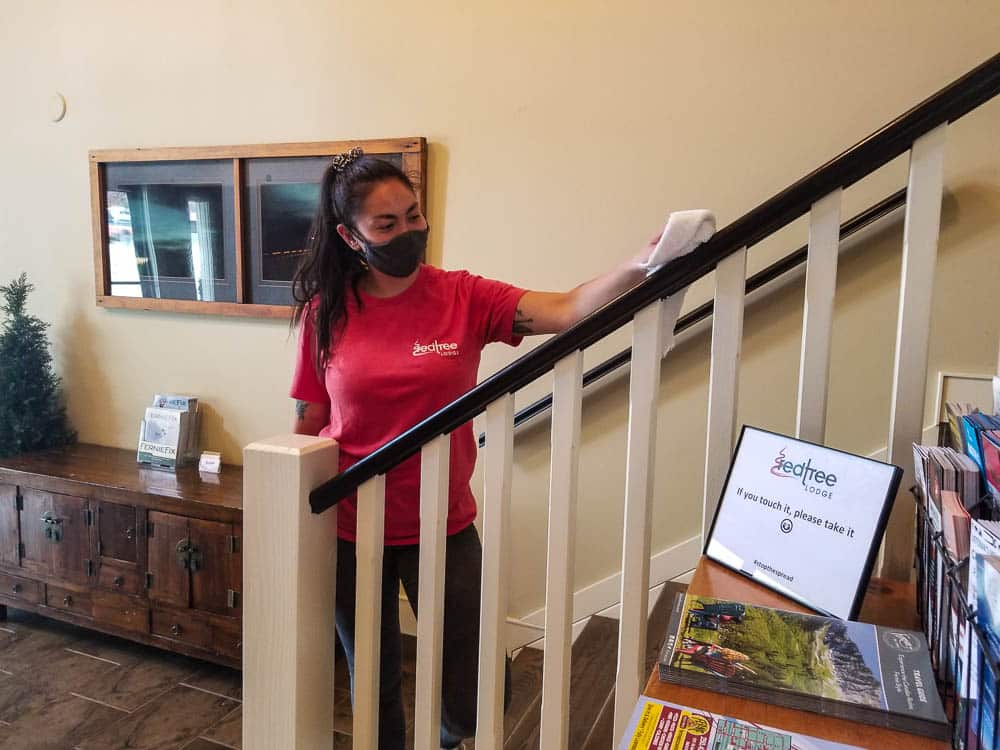 GUEST AFFIRMATION
Please note that masks are required in public areas of the hotel. 
Guests from outside Canada are now welcome to visit, please review the border and entry requirements on the Canadian Government site.
Our Guests all affirm that in the last 14 days prior to arrival, they:
have not had any flu-like symptoms,
have not been diagnosed with COVID-19,
have not been in close contact with a known-positive COVID-19 patient.
If you cannot affirm the preceding, we request that you follow provincial health guidelines, cancel your reservation, and self-isolate.
Our guests understand and agree to follow all property procedures and policies.
Failure to do so may result in eviction and cancellation without refund.
In addition to all the normal cleaning we've always done, we have added a number of enhanced cleaning protocols as we re-open our hotel.  We are committed to meet or exceed the official health recommendations to prevent the spread of COVID-19, and keep our staff and guests safe.  Here's a few examples:
Our staff will not come to work if they have any flu-like symptoms.
All employees practice diligent hand hygiene.  This means we wash our hands constantly!

We also have hand sanitizer stations located throughout the hotel, for our use and yours.


Foot pulls are installed on many of our common doors so you don't have to touch them.

We have installed a plexiglass barrier at the front desk. 
We clean common touch areas like handrails and door handles several times a day.  BCCDC guidelines recommend twice daily, but we're doing it twice per shift.

We have installed hands-free door openers on many of our common area doors so you don't need to touch them!
We have designed a "reduced contact" check-in experience.  We ask that you bring an email-enabled device (smartphone or tablet) to help with this.
We are offering housekeeping during your stay, but if you prefer you can always opt out.  We can provide cleaning supplies for you if needed.

 
 
Revised Amenities offering
Unfortunately, we are not able to offer many of our amenities due to provincial health recommendations. As these recommendations change and procedures are developed, we look forward to making them available again. Tourism Fernie is also keeping track of all the businesses in Fernie; who is open and what has changed.
Open or Revised Operations
Front Desk is open, fully staffed from 7am to 11pm. We ask that you call the desk rather than visit in person if possible.
Our Breakfast Snack is limited to the brown bag option. The lobby buffet is not available.
Our board games are available, with limited availability. Once a game has been borrowed, we ask that you keep it for the length of your stay. We disinfect it after checkout, or take it out of circulation for a minimum of three days before lending it out again.
Our guest laundry is available. We ask that you clean the machines after your use. Disinfecting wipes and hand sanitizer are provided.
Our hot tub is available by request. There is a limit of one room/family group (6 people maximum) in the hot tub area at a time, and we are maintaining a buffer between users to allow us to disinfect the room.
Frolf discs are available. We disinfect them when returned.
We have three bikes available for guest use in the summer months. We disinfect them upon return by the guest. We ask that you bring your own helmet, please.
Our bike amenities and the cleaning station is open in summer months and the storage room is
accessible by guests.
Our BBQ is available for the summer.
Our street hockey equipment is available.
Temporarily Closed
Smokehouse, the games room, pool, kitchen, library, and boot room have all been reserved for the exclusive use of one group in the hotel. Regretfully, they are not available for our public guests.

The movie theatre is not available. In the meantime, we have DVD players we can lend for your use in the room, and DVDs can be borrowed (disinfected after use). We also have HDMI cables available, so you can connect a laptop to the TV in your room if you would like to use your personal Netflix account or similar.
Our sauna is closed.