Hotel Near Crowsnest Highway
Passing through Fernie on the Crowsnest Highway and need a place to stop for the night?  The Red Tree Lodge is the ideal choice for a number of reasons.  Book direct with us online or by phone to get the best rates.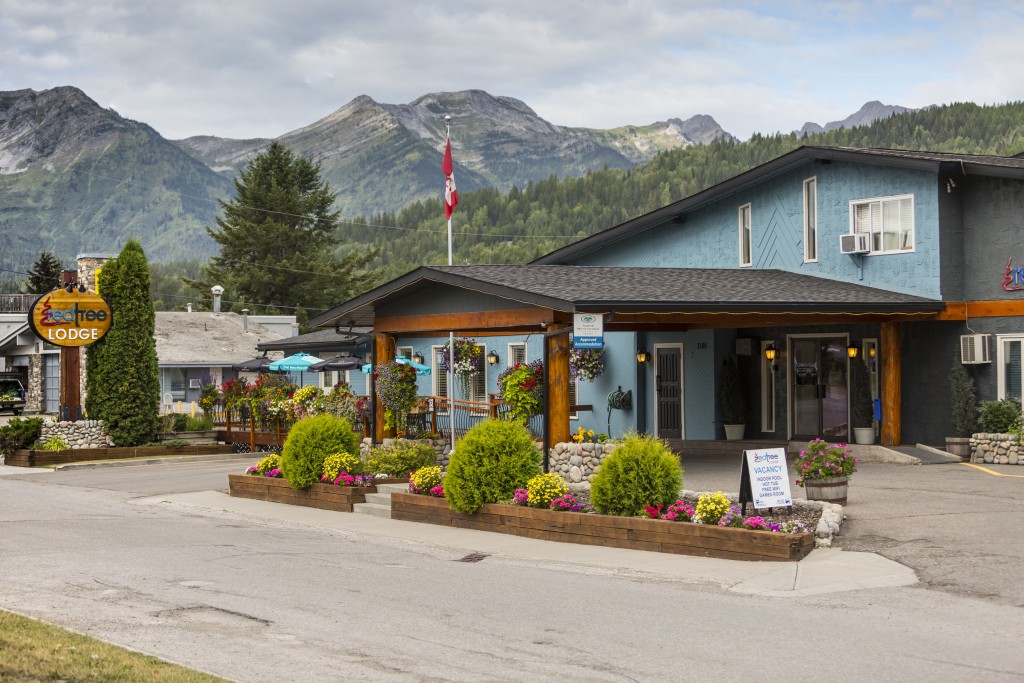 You'll see the hotel from the highway as you come into Fernie.  Located just off Highway 3, you can pull off quickly and easily.  Easy access to the hotel from the east and west makes us a great spot to stop for the night.  We have lots of free parking with room for larger vehicles, campers, trailers, and more too.  Our friendly staff can check you in quickly with everything you need to enjoy your night in Fernie.  Late night arrivals are handled easily for anyone arriving after hours.  And our check-outs are smooth and fast to see you back on the road with a minimum of fuss.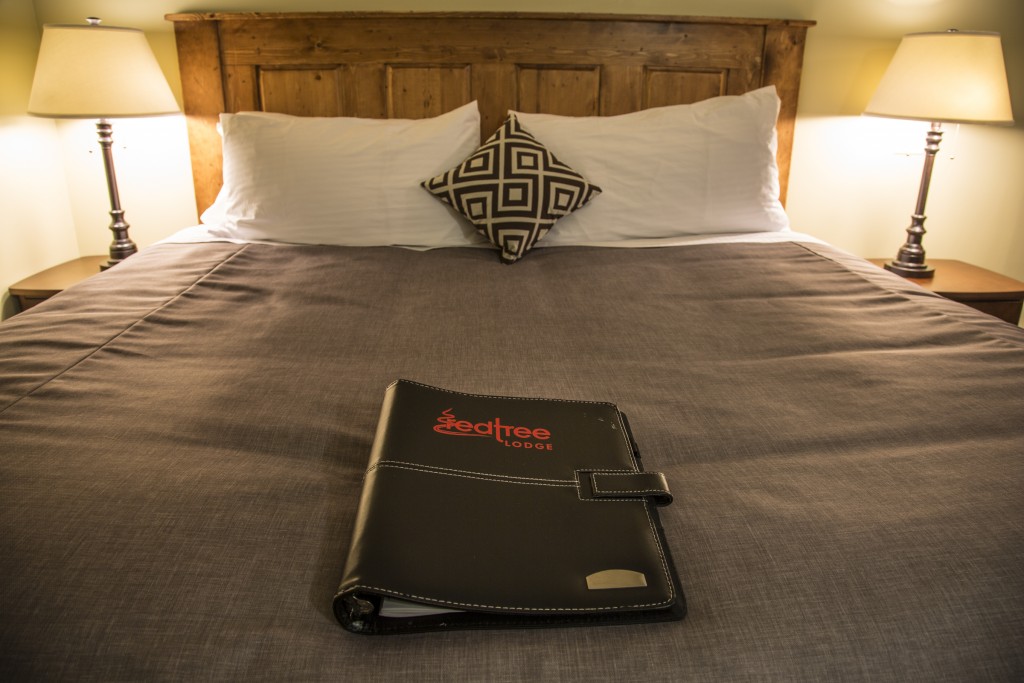 There's great value to be found at the Red Tree!  All our rooms include access to our incredible amenities at no extra charge.  We've got a swimming pool and hot tub for those who like the water. There's also a sauna to relax at the end of a day on the road.  If you're traveling with food, the hotel also includes a full kitchen for our guests to use.  There's a movie theatre room with a large collection of free DVDs to borrow.  Anyone who's been on an extended roadtrip knows how great it can be to finally do some laundry. Our free laundry is right across the hall from the movie room, with detergent and popcorn available from the Front Desk.
Breakfast - The Most Important Meal of the Day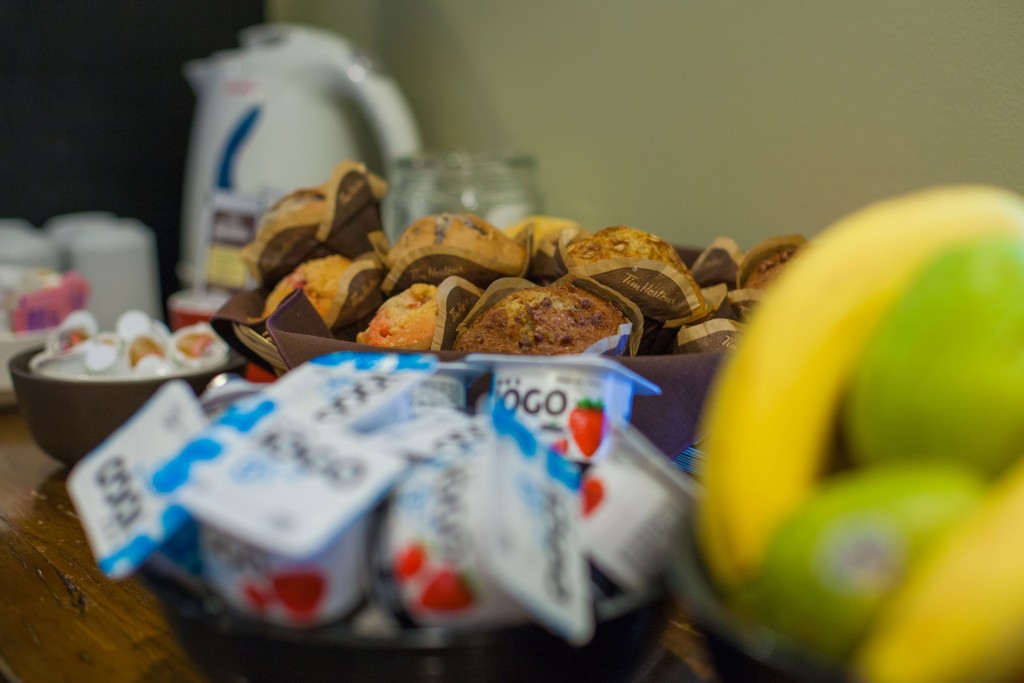 In the morning, before you get back onto the Crowsnest Highway and head on to your next destination, why not grab a bite to eat to start your day?  Our complimentary breakfast snack has everything you need to fuel up and hit the road.  You can choose from Tim Horton's muffins, a selection of fresh fruit, and a variety of yogurt.  To drink we serve coffee, tea, and hot chocolate.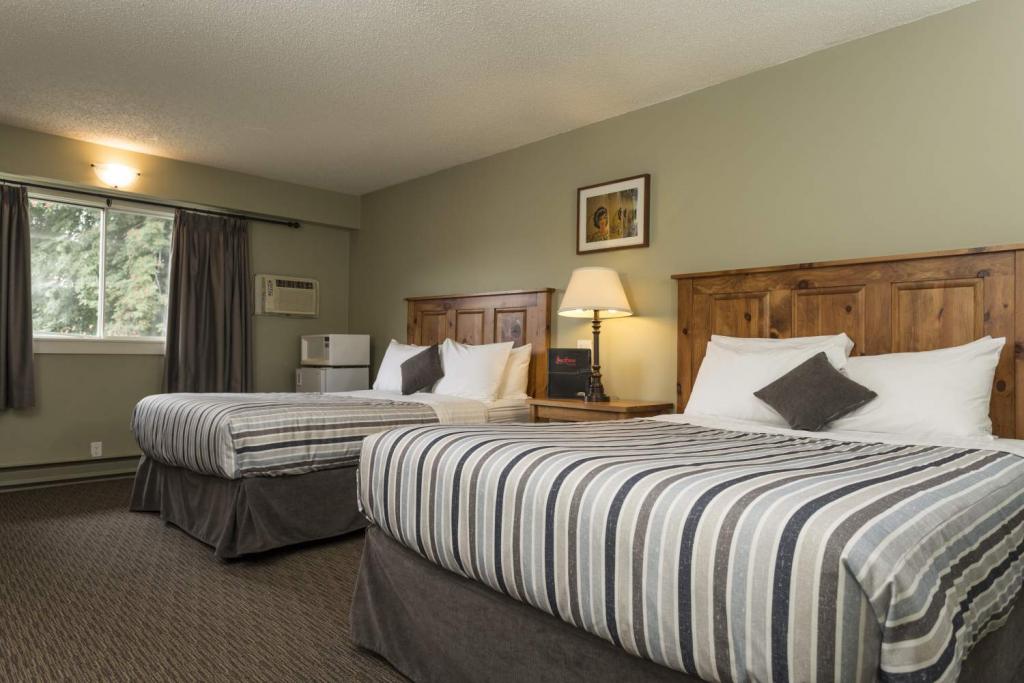 We have a variety of different room types to suit all travelers, whether you're on your way to Calgary, Montana, the BC Interior, or more.  We have Standard Rooms with two queen beds and Superior Rooms with Balconies.  There's also rooms with king beds, and family rooms to keep kids that are starting to grow up a bit from having to share a bed.  Of course, we're pet friendly because pets are part of your family too!
Who knows; you might enjoy your stay so much that you decide to take advantage of one of our "extend your stay" specials and stick around in Fernie for a bit!  But don't just take our word for it!  Check out some testimonials from our previous guests, and then leave your own after your stay.