The season of romance is in full swing in Fernie, Canada.  There's no better time than now to plan your romantic escapes to Red Tree Lodge. If you've never spent time in Fernie, BC, you'll come to realize that we're a destination location for romance once you visit. Whether you're going on an anniversary trip, romantic getaway, or honeymoon, you'll find plenty of things to do in Fernie that will connect with your loved one. 
Plan a Hike
With spring comes refreshing Fernie weather. Our the trees begin to flourish into beautiful shades of green and flowers start to bloom. The adventurous couple will love the hiking opportunities located close to the lodge.  Why not get out and stretch your legs? Make your way to Fairy Creek Waterfalls, where the hiking trail is dotted with shaded areas and well-marked signage that eventually leads to a stunning waterfall. The Matheson Falls is another hidden gem that's located on Coal Creek Road near the 41-mile marker. Because the trail is in a secluded area, find out more information about Matheson Falls here. 
Grab a Drink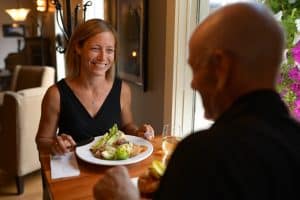 Fernie, Canada, is a destination location known for skiing, hiking, and mountain biking. It's also full of local artists and craft beer enthusiasts. After a long day of exploring the outdoors in spring, you may want to spend time relaxing on your romantic getaways. Fernie Distillers offers locals and visitors a place to post up and try a new cocktail. They feature a variety of unique cocktails with incredibly talented bartenders.  That makes for a fun experience on a night out on the town! Fernie Brewing Company also offers the local taste of Fernie.  Try their staple IPAs and core brands such as a Bavarian pilsner, huckleberry ale, or a West Coast pale ale. 
Enjoy an Intimate Dinner
The service you'll receive at the Smokehouse Restaurant is second to none. For your convenience, it's attached to our lodge!  It's always important to enjoy an intimate meal together as you spend time in Fernie, Canada. You'll be able to indulge in the mouth-watering slow-cooked meats such as juicy hickory-smoked braised brisket sandwich or applewood smoked pork belly. The restaurant also features other options such as our famous ribs, the cherrywood-smoked chicken leg, or vegetarian options, including the smoked vegetable ratatouille or haloumi burger. 
Weddings at Red Tree Lodge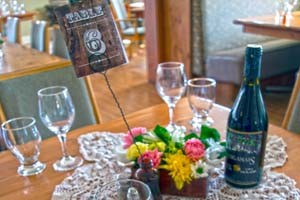 While Fernie, Canada, is an excellent spot for a romantic getaway, it's also a destination location for your wedding! Let us help you plan your special day with a beautiful reception ceremony at the Smokehouse Restaurant attached to the lodge. We're partnered with Silver Lining Events in Kootenays that will help you execute the wedding of your dreams. You may also reserve a block of rooms for your guests at the lodge, which includes a variety of room sizes, along with our Mount Fernie Suite for the bride and groom. Please visit our Weddings page to learn more about what we can do for you. If you have any questions, please don't hesitate to call Red Tree Lodge at 1-250-423-4622.