Meet the Hotel's Housekeeping Manager – Kelly!
Here at the Red Tree Lodge we pride ourselves on making sure our guests have a great time. How do we do this? With our biggest asset of course – our amazing team!
The housekeepers, maintenance, back office and front desk teams are what makes this place tick. Our team is the heart and soul of Red Tree Lodge. Over the next few months, we want you to get to know our team a little better. First to feature from our Red Tree Lodge team is our 'happy little Vegemite', Kelly Basile from The Central Coast, Australia.
Kelly has spent just over five years in Fernie, Canada and with Red Tree Lodge. You have probably met her if you have stayed with us! She knows all of the ins and outs of Red Tree Lodge! Starting in the Housekeeping team, Kelly now manages the team. And, she is also a friendly face that will meet you at the Front Desk when you check into the hotel.
Team 'Beaches' or 'Mountains'?
I wanted to know about the moment Kelly decided to exchange the beaches for the Rocky Mountains and what her favourite thing about Fernie is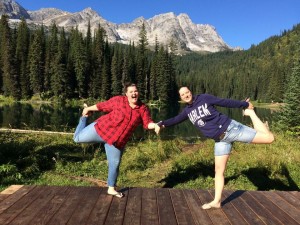 ?
My friend of 25 years who is also named Kelly suggested one day, "Let's move to Canada." I asked "why?" and her response was "why not?" So we signed up for a two year visa and moved 19,000 miles away thinking it would be great if we lasted six months. We left Australia on the 26th of January 2012, so right now I have been in Canada for five and a half years.

My favourite thing about Fernie is how beautiful it is surrounded by mountains. I grew up with the beach but it was never my thing. I am definitely a mountain girl.  You can give me mountains any day but please don't make me hike up them – I just like to admire them!
Memorable Moments in Fernie
And as you can imagine after five years in Fernie, Kelly has racked up a bunch of memorable moments like;
The first bear I saw, the time my team won the B league championship for slow pitch softball, when I met the Irish family that is now my extended family, and of course experiencing a 'REAL' Halloween. My best moment was when I was on the Greyhound coming from Vancouver to Fernie and I had not seen snow yet. When I opened my eyes and saw the snow covered trees, ground and distant mountains I actually said "WOW" out loud. I didn't care people were looking at me because it was the most beautiful thing I have ever seen.  I liked Vancouver but I love being in the mountains. Snow makes EVERYTHING so pretty!!!
Family & friends back home
Aussies love Canada and by the sheer number of Australians here, it seems Canada loves Aussies too! So, what does Kelly tells her friends and family about her home here in Fernie?
How beautiful the Rocky Mountains are! I try to explain how fresh the air is here and don't even get me started on how fun snow is! I tell people how amazing the summers are too. Even though it gets to 30 plus degrees it is a nice heat and not humid or sticky. Canada has four VERY different seasons and all seasons have something great to offer.
And of course, what does an Aussie think of Canada's cuisine, animals and slang!?
'You betcha' my favourite Canadian food is poutine. Who doesn't love a meal covered in gravy!?

If I was a Canadian animal I would be a Moose. Those animals are HUUUGE! They are so big and have long tall legs, just like me! They are boss! But, also super scary! I would love for people to see me and freak out like they do when they see a Moose!
Why Fernie?
Over five years in the same spot? Why Kelly hasn't moved from Fernie:
I have visited a few places in Canada including Vancouver, Toronto, Calgary, Edmonton and Winnipeg. I am off to Vancouver Island in July and still have a few places on my bucket list like Waterton and Drumheller. The Rocky Mountains is my favourite place; anywhere else just doesn't compare!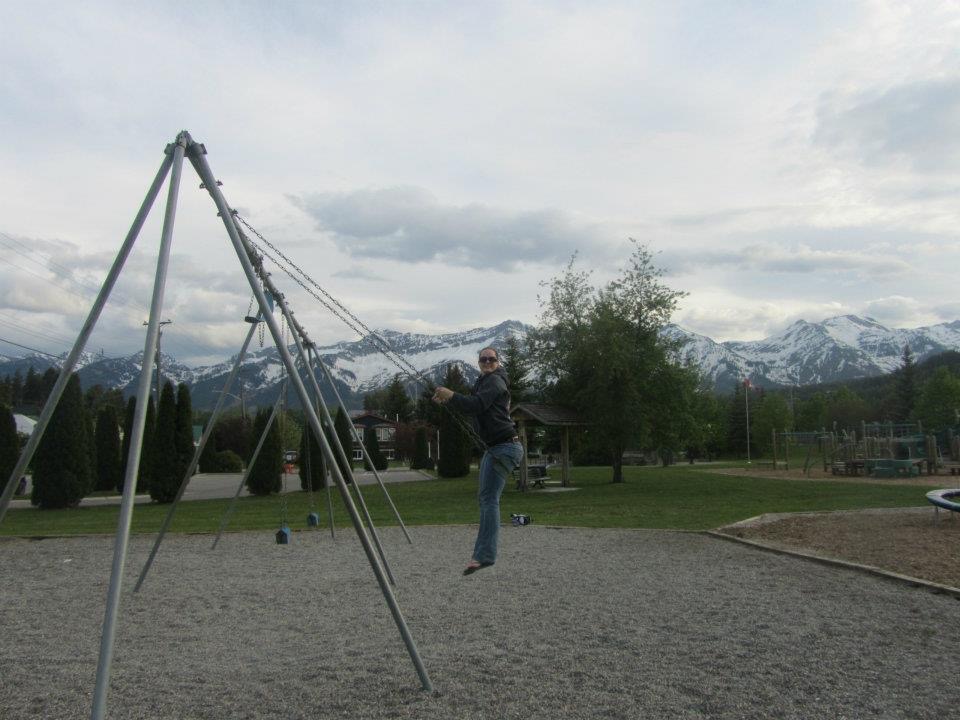 Surrounded by tall mountains, gorgeous lakes and rivers and a friendly community. "Anywhere else just doesn't compare' wraps up life in Fernie beautifully!
Canada celebrates its 150th birthday this year! So if you ever needed an excuse to get away to our charming little town, now is definitely the time!  We are looking forward to a nice hot summer and the whole team here at Red Tree Lodge would love to ensure you have great time!
P.S. Don't forget to give a big hello to our 'happy little Vegemite' Kelly Basile!