I wanted to start this blog with a poutine pun but they were all too cheesy! Ha! But seriously, fries, cheese curds and gravy is really a magical mix of calories and yum! In celebration of Canada's 150th birthday, the Red Tree Lodge Deskies had the oh-so-difficult job of taste testing poutine in Fernie. Before that, let's take a minute to get the low down on the history of this famous dish.
History of Poutine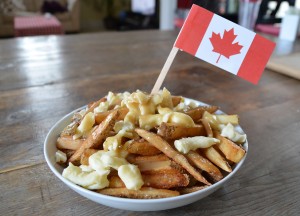 There are a few stories that lay claim to poutine floating around. We do know it originated in Quebec sometime in the 1950's. And we do know it is delicious!! A common story is that of Fernand Lachance, the owner of a restaurant called Le Lutin qui rit in Warwick, Quebec. He added cheese curds to fries after a request from his customer Eddy Lainesse and remarked "Ça va faire une maudite poutine," or, "That's going to make a dreadful mess."
Love your work Fernand and Eddy!

Fernand started serving fries and cheese curds to customers in a paper bags. Customers would add their own condiments like ketchup or vinegar and make a 'dreadful mess'. Trying to contain that mess, he started serving fries and cheese curds on a plate however customers started to complain their food was getting cold. Fernand's genius idea was to add gravy on top and keep everything warm! At this point, the common name for this dish was "mixte". In Québec, the term poutine is slang for mess and it was years later in the 1980's that large chains started to sell it and it became known as Poutine!

It was around the 1990's that poutine was added onto menus across the nation. McDonalds added it to its nationwide menu after being available in Quebec for several years and other chains followed suit not long after.
However the creation of this now national dish came about, I salute you Quebec, for the awesomeness that is poutine!

Poutine in Fernie
Nowadays, it seems most restaurants will serve at the very least a traditional poutine. Have you also noticed how lot of restaurants get creative making their own version of a poutine? I love that often it will reflect the personality of the business or town.
As I mentioned, the Red Tree Lodge Deskies had the oh-so-difficult job of taking some of the finest poutine in Fernie. We went to The Fernie Hotel & Pub, The Northern Bar & Stage and The Pub, ordering up a poutine storm so we could offer you our thoughts.
Poutine at the Fernie
There are three different poutines on The Fernie Hotel & Pub menu. We tucked into the Traditional, Donair and Porky Blue. All three were delicious, but it was the Donair that came out as our favourite. The Donair is a traditional poutine but with gyro beef, tomato, onions and sweet & spicy sauce which somehow made the whole dish feel lighter! Spot on combination! If you like meat with smoky bbq sauce then the Porky Blue is for you. It is a traditional poutine with bacon, spicy pork sausage, and some very yum smoky bbq sauce! Our Deskie Kelly especially enjoyed the Traditional Poutine as she is a "traditional gal".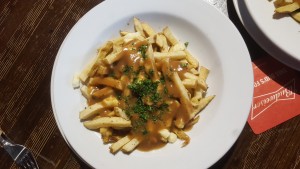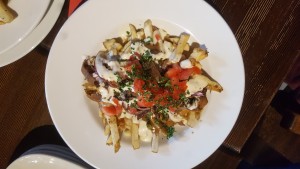 Northern Poutine
The Northern Bar & Stage has one poutine on the menu called 'Poutine of Your Dreams' and it was actually was. Get ready for it…this dreamy dish comes with waffle fries , pulled pork, peppered bacon, cheese curds, gravy, bbq sauce, and is topped with coleslaw.  It sounds like a lot but all the ingredients work like magic. There was a nice smoky taste from the bbq sauce but it wasn't too overwhelming. We cleaned up our plate and seriously considered seconds. Yum!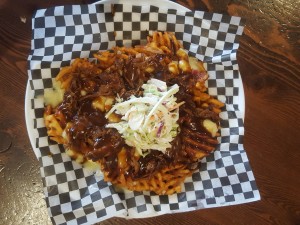 Poutine at the Pub
The Pub offer a 'build your own' every Wednesday. We tried a Tex Mex version that had taco chicken, tomatoes, green onions, nacho cheddar cheese, sour cream, and bacon! Of course, we got ourselves a traditional poutine too! Both dishes were extremely tasty, however, our Tex Mex creation was decided as the favourite. We had a lot of fun getting creative and customizing our own dinner!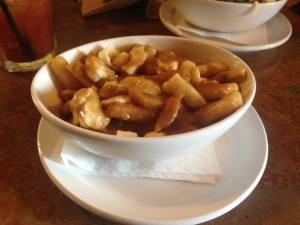 Poutine for your thoughts…
Who's hungry? I know I am after writing this!
Whether you prefer a traditional poutine or like to "mixte" it up with fancy waffle fries, sauces or veggies; the poutine in Fernie is pretty tasty. All poutine dishes from The Fernie Hotel, The Northern and The Pub come highly recommended by the Red Tree Lodge Deskies! We would love to talk poutine all day so feel free to strike up a conversation on your next stay.