After a busy winter season it was time for the Red Tree Lodge staff and the Nonstop crew to have a well deserved break, so we had a staff party at the arcade in Fernie.  Where is the arcade you're wondering? Tucked away above the Vogue Theatre is a place that time forgot, with video and table games, pinball machines, air hockey and so much more! Walking in, we were all instantly transported back to those days when you begged for quarters to play over and over again. This time there were no quarters needed – unlimited gaming is included!
Arcade Game Machines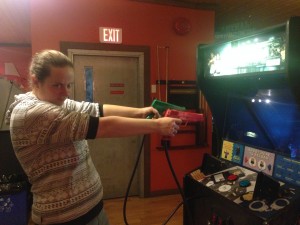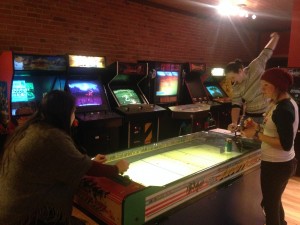 There are some newer games as well as the old classics to keep everyone entertained. I started the evening on a downhill ski video game. We all had a lot of fun trying to do our best carving turns while our 90s digital counterpart raced down the piste. There is also table football, air hockey and a basketball game.  Kelly showed off her exceptional skills and grabbed a high score! With 3 different driving games everyone had a go behind the wheel racing around the tracks to claim the first place title. The vintage graphics are the best part and the simplicity of the games can't be beaten. There was a lot of friendly competition as everyone got into the gaming! However, more often than not I found myself on the losing side. And too often the words GAME OVER flashed at me on the screen.
Pizza and Beer and Videogames?  OK!
To keep us all gaming we had a tower of hot pizzas delivered from Fernie Pizza and Pasta and brought some cold refreshment from Fernie Brewery. We also had as some soft drinks for the drivers and kids. The Arcade is available for private functions such as birthday parties, company functions or stag/stagette evenings. It is a fun space for all ages. After a very good evening it comes highly recommended from us all here at Red Tree Lodge.  But please don't beat Kelly's high score on the basketball game!