Start to the Holiday Season
There is no better location than Fernie to experience and celebrate the joy of the holiday season. Fernie's chilly fall temperatures, friendly atmosphere, and majestic setting combine to form the perfect getaway for winter festivities. Find yourself surrounded by the gorgeous Rocky Mountains as light snowfall dusts the city streets. In the autumn months of October, November, and into December, this Canadian city becomes a winter wonderland. Book your stay at Red Tree Lodge this season and make lasting memories at one of the best Fernie BC hotels. Here are just a few of the events that make this incredible location a holiday hotspot!
Festival of Lights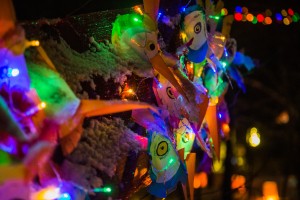 The Festival of Lights, held in beautiful downtown Fernie, is one of the city's most dazzling celebrations. This annual event fills the crisp night sky with brilliant light and sound. Local artists and musicians come together in November to exhibit their unique craft and performance. Watch as awe-inspiring visual installations are illuminated throughout Station Square.  Everything is just minutes from one of the premier Fernie BC hotels, Red Tree Lodge! The festive night ends with a parade along 2nd Avenue showcasing even more amazing visuals.
Elk Valley Festival of Trees
From mid-November through the first weekend in December, the Elk Valley Festival of Trees provides an exquisite array of Christmas Trees.  Each tree is sponsored by a different Fernie business. Various events are held throughout the festival, including:
the Tree Lighting Reception & Spirits of Christmas Kick-Off Party,
Black Friday Holiday Fair,
Date Night & Kids Movie Night,
and more!
Purchase a ballot and raise money for a local charity by voting for your favorite tree!
Holiday Kick-Off Light Up Party
Another great Fernie holiday celebration to experience with your family is the Holiday Kick-Off Light Up Party. Not much will get you in the spirit like witnessing the winter lights display being switched on throughout beautiful downtown. Watch the streets become illuminated from outside of the courthouse.  As well, come take advantage of the delicious free barbeque provided by the city. After the downtown display is lit, walk through the quaint streets and visit the wide variety of boutique shops and stores.
Best Fernie BC Hotels
With so many fantastic holiday festivities, it's easy to see what makes this magical location a favorite winter getaway. Book your stay at Red Tree Lodge and experience the most wonderful time of year at one of the best Fernie BC hotels! Enjoy a winter escape you won't soon forget. Red Tree Lodge is waiting for you!