For those  staying at Red Tree Lodge who wish to explore the arts of Fernie BC, we suggest taking a self-guided tour to check out our many local artistic creations. Fernie is full of culture, history, and many types of artwork created by amateur and professional artists. You'll find local photography, handcrafted items, paintings, sculptures, and more displayed throughout town. Whether you're looking to take a break from all the Fernie Mountain biking adventures you've been having or would like to do something on a rainy day, checking out the creative scene will be a fun way to spend an afternoon. Here are a few places to check out near our Fernie BC lodging.
Fernie Arts Co-op
Not only will you find local art creations at the Fernie Arts Co-Op, but you'll also find many gifts to pick up for loved ones back home. While walking through the historic downtown area in Fernie Canada stop into the co-op where you'll find many items on display. Pick up paintings, handcrafted soap, home furnishings, accessories, woodwork, and fine art prints— the list goes on. The local co-op provides a space for local artisans to sell their work to the community and will be one of your favorite stops!
The Arts Station and A Hardy Town Sculpture
Outside of The Arts Station, you'll find A Hardy Town Sculpture which was created by Michael Hepher and Paul Reimer. The sculpture represents the history of The Great Fire of 1908, which claimed five-million dollars worth of property in Fernie, BC, in less than 90 minutes. While no lives were taken in the fire, this piece of the arts of Fernie BC represents a defining moment in our history and will be permanently displayed in front of the gallery. The Arts Station provides a rotating gallery show every month and is open daily.
Fernie Museum
On the first floor of the Fernie Museum, you'll find This is Our Fernie, a permanent exhibit where you'll learn about the rich history of our beautiful town. The museum also has a welcome center where you'll be able to pick up visitor information that will give you an idea of things to do in Fernie, BC, during your stay. On the second floor, the Museum Gallery features works of regional as well as local artists work and rotating historical exhibits.
All Kinds of Beauty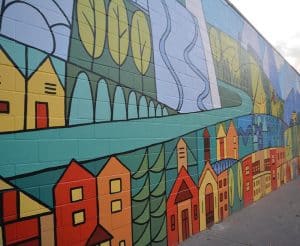 This fall, we are proud to have a new public installation of the art of Fernie BC with the completion of Michael Hepher's mural All Kinds Of Beauty.  Designed to represent the whole of the community and reflect everything that makes us who we are in Fernie – the outdoors, our native heritage, local industry, and more.  The mural will be officially unveiled on October 15th, 2019.  While visiting the Red Tree Lodge, why not go check it out?
Shared Toys with Your Stay
When you'd like to take a break from all the hiking, fishing and exploring outside, we strongly encourage you to take a self-guided art tour during your getaway. Our Fernie accommodations are centrally located to all the town's many attractions, so you won't have to travel far to check out the local art scene. We also provide bikes to use in our shared toys where you may opt to cruise down to the river or ride into town. Explore our accommodations and shared toys online. Please call 1-250-423-4622 to book your stay.