If you haven't noticed by now, our staff at Red Tree Lodge loves to stay active by taking advantage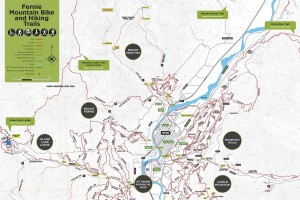 of all the beautiful trails for mountain biking and hiking in Fernie. When you're looking for places to explore nearby, ask our staff to point you in the right direction or check out the Fernie trail map. Planning to stay active during your vacation will be easy. We provide bikes, frolf discs, and other supplies for the outdoor enthusiast. Here are some great options for when you'd like to get out and stretch your legs during your stay.
James White Park in Fernie
Grab your friends, our shared toys frolf discs, and head to James White Park for an afternoon full of fun and disc golf! The park features an 18 hole Disc Golf Course where you can challenge your friends to a round or two. Not only does the park feature the Lizard Range Disc Golf Course, but there are also many trails for walking near the Elk River. The Montview Trail is the perfect place to explore while hiking in Fernie as it intersects with many other recreational trails. When you're exploring Fernie, BC to stay active during vacation, James White Park is a great place to spend the day!
Mountain Biking in Fernie
The Fernie mountain biking season begins around April each year and lasts through late October. The trails for mountain biking in the area are seemingly endless, and most are just minutes from our Fernie accommodations. If you'd like to have a quick warmup before hopping on one of the 110+ trails, head to the Dirt Jump and Skills Park to test your agility. There are never ending trails in Fernie, BC to stay active during vacation. Our welcoming staff will point you in the right direction for all your Mountain biking needs. As a special treat for those who bring a bike, we offer a full range of mountain bike-friendly amenities such as a storage room and bike wash.
Fernie BC Lodging
During your stay, we provide our shared toys to use to ensure that your family vacations are full of adventure.  Play board games or purchase a bag of popcorn from our front desk and lounge in our Movie Theatre room. After a long day out hiking in Fernie, relax in our hotel hot tub to unwind. To browse through our Fernie accommodations and amenities, visit us online. Give us a call to book your stay at 1-250-423-4622.