Spring has officially arrived here in the jaw-dropping Kootenays of British Columbia. We've already started to swap our snow gear for paddles, golf clubs, and hiking boots here at Red Tree Lodge, the top-ranked independently-owned hotel in Fernie, BC. Take full advantage of our springtime savings with a well-deserved escape to our beautiful slice of the snow-capped Canadian Rockies. With so many nature-related things to do in Fernie, BC, you'll barely have time to bask in our valley's beauty. We've hand-selected three of our favorite spring activities to help make your getaway to the Kootenays one-of-a-kind.
The Best Spring Activities in Fernie, BC
Fernie Golf Club
Dust off the clubs and swing your heart out this spring at nearby Fernie Golf Club, conveniently located within a mile of downtown Fernie. Fernie Golf Club is known for its splendid panoramic Canadian Rockies views. This stunning course is consistently ranked as one of the top 25 golf courses in British Columbia. Wildlife often scurry through the fairways on their way to and from the Elk River.
Self-Guided Canoeing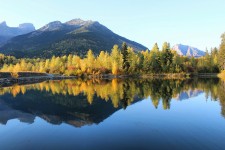 There is a seemingly endless wilderness to be explored near Red Tree Lodge via canoe. This is why it's one of the top spring activities here in Fernie, BC. Several stretches of the Elk River provide tranquil, slow-paced canoeing terrain, especially from Hosmer to Fernie. Enter at Hosmer Bridge and exit at the first Fernie bridge. Don't forget to plan your pick up accordingly. There are also five lakes within 40 minutes of Red Tree Lodge. Fernie's Maiden Lake is perfect for a paddle. We also recommend a quick day-trip to Surveyors Lake and Baynes Lake. Both of these hidden gems provide exceptionally stunning views of the Canadian Rockies!
Scenic River Floats in Fernie
There's no denying the allure of rushing down the river in the Canadian Rockies, but whitewater rafting isn't for everyone. Canyon Raft Company realized years ago that families and rafting novices still have the urge to explore the Elk River's splendor without the thrill-seeking aspect of whitewater rafting. Canyon Raft Company created a three-hour "River Mild" option that meanders along the Upper Elk River where you'll drift past glacial-carved valleys, snow-capped mountains, and serene wildlife.
Top-Rated Fernie Accommodations
There are just too many crowd-pleasing spring activities to choose from! But it's still worth mentioning the seemingly endless hiking trail system in and around Fernie, BC. Take a quick peek at this extensive map to start planning a springtime hiking excursion! Don't forget to start each morning with a steaming cup of fresh-brewed coffee at dawn and a home-cooked meal in our guest kitchen before heading out into the pristine wilderness. After each full day of exploration, adventure, and relaxation, retreat to Red Tree Lodge for a full rack of braised ribs and craft beer at Smokehouse, one of the premier Fernie restaurants. We have several specialty rooms to choose from, including a romantic Mount Fernie Suite, pet-friendly rooms, and the deluxe family room. Visit us online at RedTreeLodge.com, or give us a call today at 1-250-423-4622 to book a well-deserved springtime escape to the beautiful Canadian Rockies!