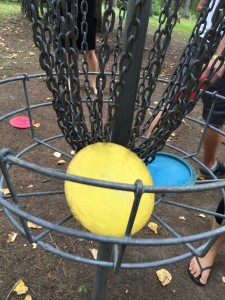 As the sun starts to shine stronger, and the days become longer, we'd like to offer some advice for a fun day out in the sun near Red Tree Lodge with the top summer activities in Fernie, BC. Whether you'd like to spend the day in Fernie mountain biking, playing a round of disc golf at James White Park, or want to explore the local parks, we'll give you ideas to add to your list of things to do in Fernie BC! Keep the packing light as we provide shared toys such as townie bikes, frolf discs, street hockey equipment, and more. We help you get the most out of your Fernie Canada summer vacations!
Mount Fernie Provincial Park in the Summer

Spending the day in Fernie mountain biking the trails at Mount Fernie Provincial Park will be high up on your list of summer activities in Fernie, BC! Our Fernie hotel is bike friendly, so take advantage of our free townie bike rentals during your stay. If you're bringing your own mountain bike along, we have an area to tune, store, and wash your bike after a fun day out at Mount Fernie mountain biking. The park has many trails and offers breathtaking views of greenery along the way! You'll be surrounded by massive Cedar trees, wildflowers, and many shaded areas. Imagine the sounds of trickling creeks echoing all around during your ride. Whether you're looking to mountain bike, hike, swim or just want to spend the day basking in nature, the park has something for all ages!
Mountain High Adventures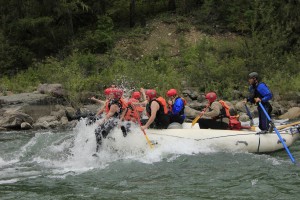 Make a splash this summer at Mountain High Adventures. They're located just minutes from our Fernie BC hotel. Here you'll find many watersport activities like white water rafting, standup paddleboarding, scenic floats, and Fernie Canada kayaking. Adrenaline seekers will experience Class 4 rapids in Elk River Canyon on a Whitewater Mammoth Rafting adventure. Try something new on your family vacations as this rafting thrill ride holds up to six. Not only will you whitewater raft, but you'll also be able to step up the trill with the opportunity to do cliff jumping as well! Milder thrills are also offered at Mountain High Adventures for those with little ones along.  No matter what adventure you choose, you'll have an amazing day on the water in Fernie Canada.
Family-Friendly Fernie Accommodations for Summer Activities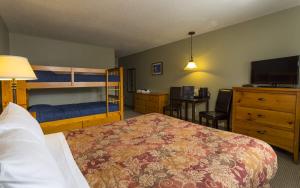 After a day out in the sun, why not come back to our spacious Fernie BC lodging to relax with our on-site movie theater room? We include a DVD library so that the kids will be able to come down after an exciting day outdoors, while you relax in our hot tub or sauna!  Our family-friendly rooms include bunk beds and a queen bed.  They can also be made into pet-friendly lodging, so that you're able to bring the entire family along. To browse through our Fernie accommodations to see what is best for your family vacations, visit us online! Get in touch with our staff about booking your stay; call 1-250-423-4622!