Mark and Mya Arrive in Fernie
Recently the Red Tree Lodge got to welcome some very special guests to Fernie, Mark and his dog Mya! The adventure duo are from Australia and made the trip to Canada back in November.  They came with the goal of embarking on a 10-month journey through North America. Fernie has been on their list of mountain towns to visit since they arrived at the beginning of the season. We were so happy to welcome them to our town and could tell they were just as excited to be here! After I checked them into their pet friendly room they wasted no time dropping their bags off.  They headed straight into Fernie's historical downtown to check out the town and snap some photos!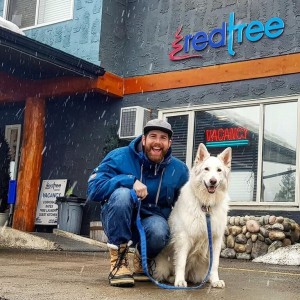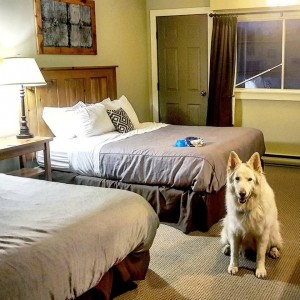 Fernie Dog Parks
After a good night's sleep, the two were re-energized and eager to check out the trails.  Mark and Mya (the white shepard) met up with local trail pals, Amanda and her golden retriever, Cooper. The two of them showed Mya a lovely dog friendly park just a few blocks down the road from the Red Tree Lodge. Together they had a tail-wagging good time running up and down the snow-covered path along the Elk River. No doubt they ran into some other furry trail goers during their play date, but it was clear that Mya and Cooper hit it off best and looked like long-time buds.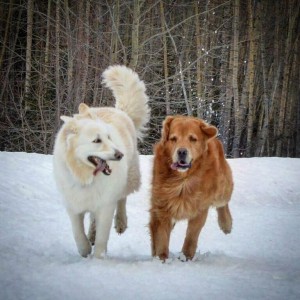 Exploring Fernie – Dogs Welcome!
It wasn't all adventures for Mark and Mya. Life on the road calls means making time for mundane errands too.  For Mark, this meant laundry day. In between the river walks, fat biking rides, and Mark hitting the slopes at Fernie Alpine Resort, they took advantage of our free laundry services at the lodge. Mark told me was seriously life saving! As for Mya, she needed a bath. The duo made their way to our local pet store, Barkside Pets, in downtown Fernie.  Mya got all soapy and clean in the dog wash station and then made sure to check out the store and say hello to the friendly staff.
Before saying farewell to the town, Mark held a casual meet and greet to cap off a wonderful time in Fernie. It was the perfect opportunity for locals to engage with him and Mya.  We chatted about dogs, life, adventures, dog friendly destinations, and whatever else people were wanting to know.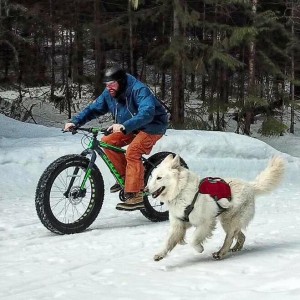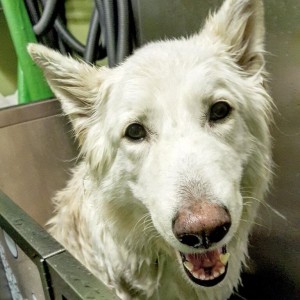 When checking out of the lodge, I asked how Fernie ranked in all the destinations so far.  Mark laughed and took a neutral stance saying he doesn't like to pick favorites. He explained to me that all the places he's visited have been awesome for different reasons. Just like any destination, every mountain town has its pros and cons. What I'm thinking he meant to say, is that Fernie absolutely topped the ranks and nothing compares to our town.  In Fernie, dogs are truly welcome 😉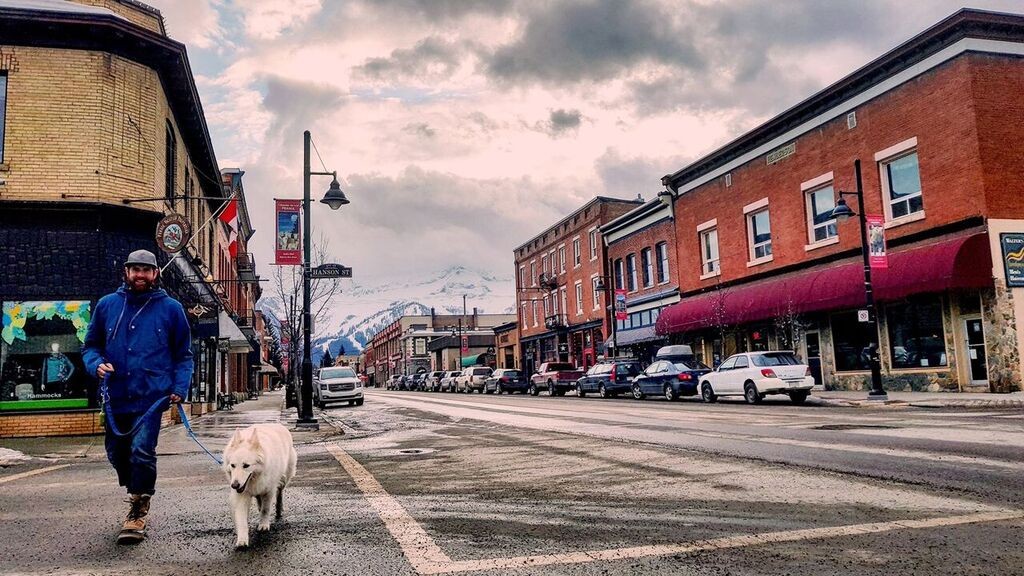 Traveling with Dogs
There is no denying that Mya has a large fan base on social media. After being in Fernie I know they've gained some more loyal friends and followers. With a shared passion for the great outdoors, their Jeep to move them around, and each other for companionship, there is no adventure too big for these two. When asked about plans to return, Mark told me he'd love to come back mid winter for a week on the slopes. He added he would love to hit the mountain bike trails with Mya someday! We sure hope you do Mark, and we wish you all the best on the rest of your adventures and hope to see you soon for another visit 😊
Follow Mark and Mya on Instagram to see more inspiration of dog friendly destinations.. #NoPawsGetLeftBehind.