Firstly, I need to tell you that I am not a 'crafty' person. I am pretty good at drawing stick people but that is about the extent of it. After enjoying a summer of outdoor adventures, Fall is the perfect season to look at Fernie's Cultural scene. And what better place to check this out than the Arts Station – the hub of the cultural scene in Fernie. Boasting two Art Galleries, a 100 seat Theatre, Craft and Painting Studio as well as a Pottery Studio, there is a ton of activities to choose from! While I am not a 'crafty' person, I am a 'wine' person and I REALLY loved the movie Ghost so I was pretty excited about giving Wine & Wheel Wednesday a go. Clink the wine glasses and cheers to the next Deskie Adventure!!
Wine & Wheel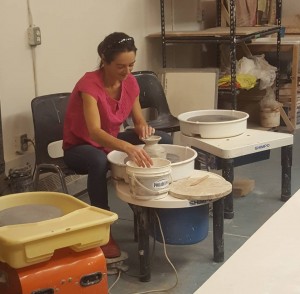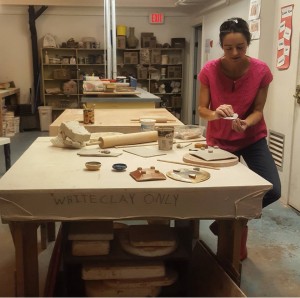 Bottle of wine in hand I showed up at the Arts Station ready to let my creative flag fly! The evening is facilitated by the very talented (and very patient!) Kerri Holmes, downstairs in the pottery studio. Tasked with making sushi plates and bowls, Kerri showed us some different techniques and then let us loose on the clay. Some of our group had done pottery a few times and for some like me, it was their first time.
With Kerri's tutorial here I was making plates and bowls instead of carving stick figures into the clay and focusing on the wine! I even learnt some new terminology like, 'centering the clay' on the wheel and 'throwing off the hump' to make small bowls. My masterpieces include a couple of sushi plates and a couple of bigger bowls (…think more soup bowls than soy sauce bowls). The price for attendance includes the clay, glazing and firing. I pick my pieces up next month and cannot wait to see how they turned out! Guess what my friends are getting for Christmas!!?
Covered head to toe in clay and really happy at my 'crafty' accomplishments, now I am pretty good at drawing stick people AND kind-of-ok at making clay plates and bowls! I had an absolute blast and would recommend getting along to try Wine & Wheel Wednesday while you can. Grab some girlfriends or boyfriends and make a night of it!!  Hold steady on those wines though; no one wants to see you re-enacting THAT scene from Ghost.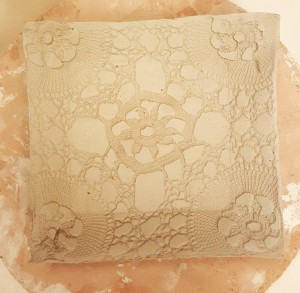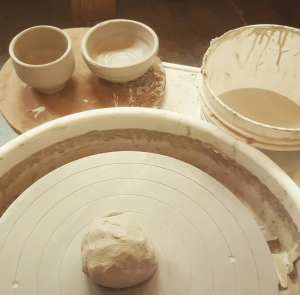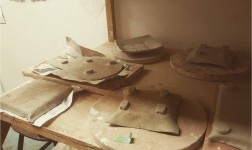 Arts Station

The Arts Station really does have something for everyone. If getting down and dirty with the Wine & Wheel is not your thing, check out the Rhumba dance lessons, the Fall Concert Series or the Gallery when brunching at the amazing Blue Toque Diner. The Gallery is currently showcasing 'Exploring the Elk' with Mark Locki. The photos are seriously stunning!! See what else is on offer at the Arts Station events page.
If you have been looking for a way to more involved in the Fernie community there are plenty of options at the Arts Station. You can become a member, volunteer, donate or help with projects. However you get involved it is a pretty sweet investment in the Fernie Arts & Culture future!
What to do in Fernie!
Frosty mornings, colourful mountains and extra clothing layers needed, we have well and truly transitioned into Fall. The fishing is still fantastic, the biking and hiking views just keep getting better buuuut it is definitely a great time of year to start indoor activities like Wine & Wheel Wednesdays at the Art Station!  Check out the Art Station website for their latest events or the Tourism Fernie events page to keen up to date with what is happening around Fernie!