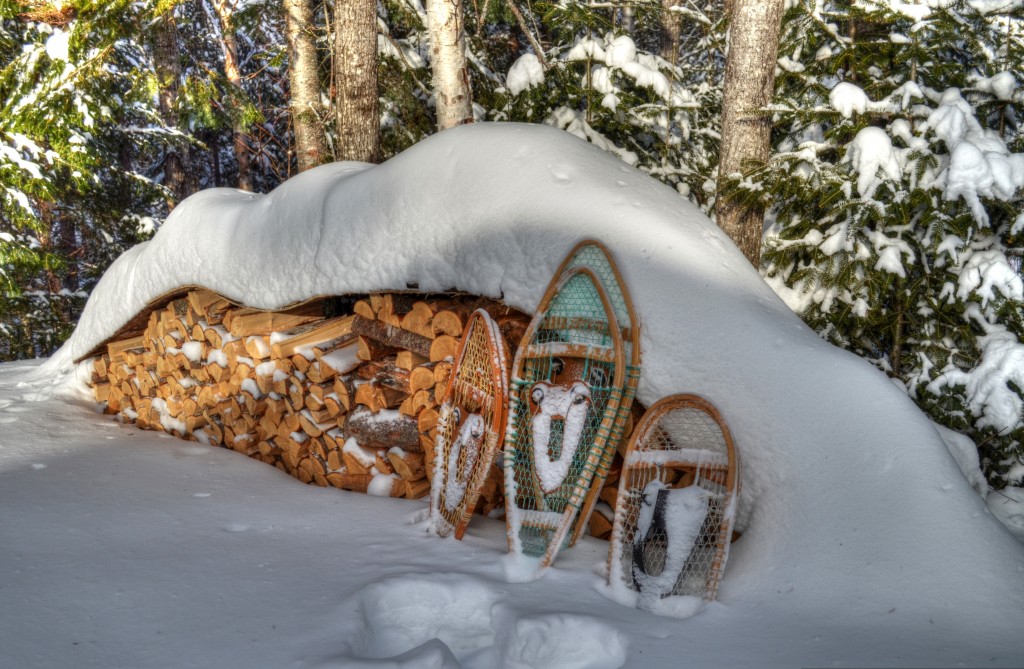 "The crunching snowshoes and the stinging air,
And silence, frost, and beauty everywhere."
— Archibald Lampman, avid snowshoer, Confederation poet, "the Canadian Keats."
Snowshoeing has been around for ages in Northern America allowing the earliest of Aboriginal cultures to endure the winter snow and carry out necessary survival tasks more efficiently. Designed to distribute weight over a larger area, the snowshoe lets the user to 'float' across deep powder rather than sinking in. This was essential for hunters, trappers, and anyone who needed to travel distances on foot in the winter. In Fernie, snowshoeing is a well-loved activity that allows people to enjoy their favorite trails during the winter. Whether it be strapping on some shoes and heading out to experience preferred hikes on your own, or arranging a guided tour with one of the companies in the valley for a trip filled with learning,  snowshoeing is loads of fun for people of all ages. The staff here at the Red Tree Lodge were fortunate enough to experience snowshoeing with the guidance of Wild Nature Tours, a non-profit program branched off from Wildsight giving all proceeds to supporting local conservation projects. We participated in the Provincial Park Paradise Snowshoe Safari and it is safe to say that we all bettered ourselves in the sport of snowshoeing while having tons of fun doing so. Here is our experience!
Our Fernie Snowshoe Safari
After a typical work day at the office, my coworkers and I all piled into the car and drove up to the Provincial Park where we met our charming guides Ayla and Chalice. After some introductions and waiver signing, we tightly strapped on our snowshoes and grabbed our poles. We were instructed to dig the 'teeth' of the shoes into the ground while walking across the icy parking lot, and ventured far enough for a photo -op.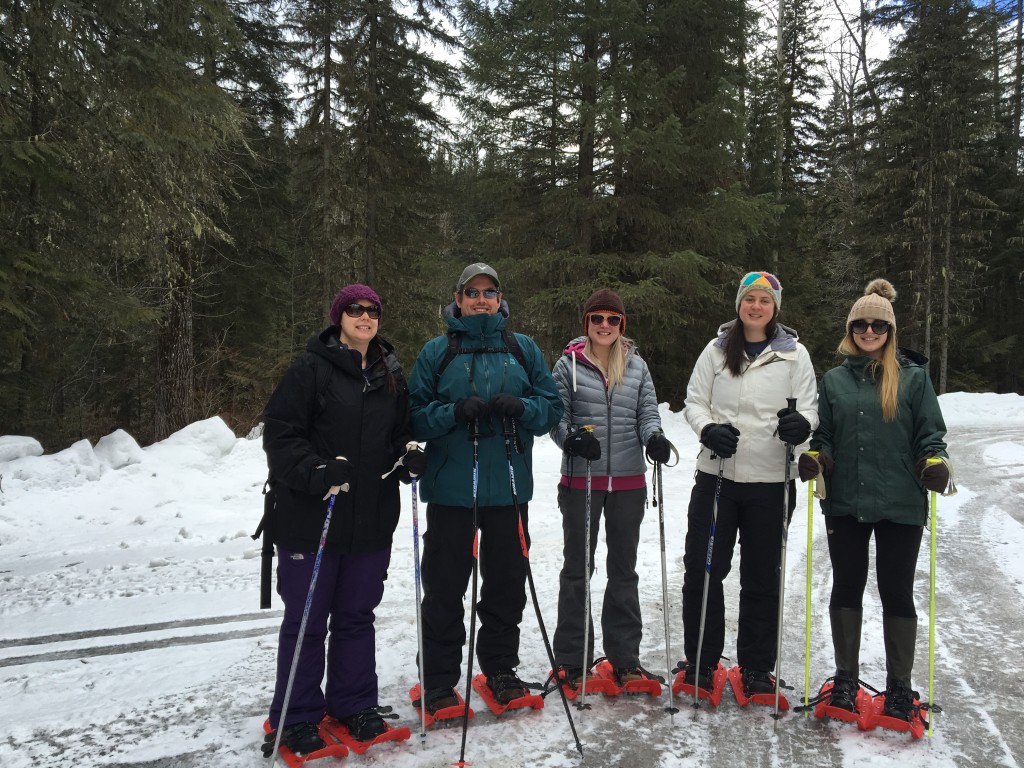 After cheesin' for the camera, we were guided onto the trail and the guides pointed out our first obstacle: climbing up a snow bank. In order to properly snowshoe uphill you jab the teeth under the ball of your foot into the side of the bank and continue upwards. Our group was successful and we carried on into the park.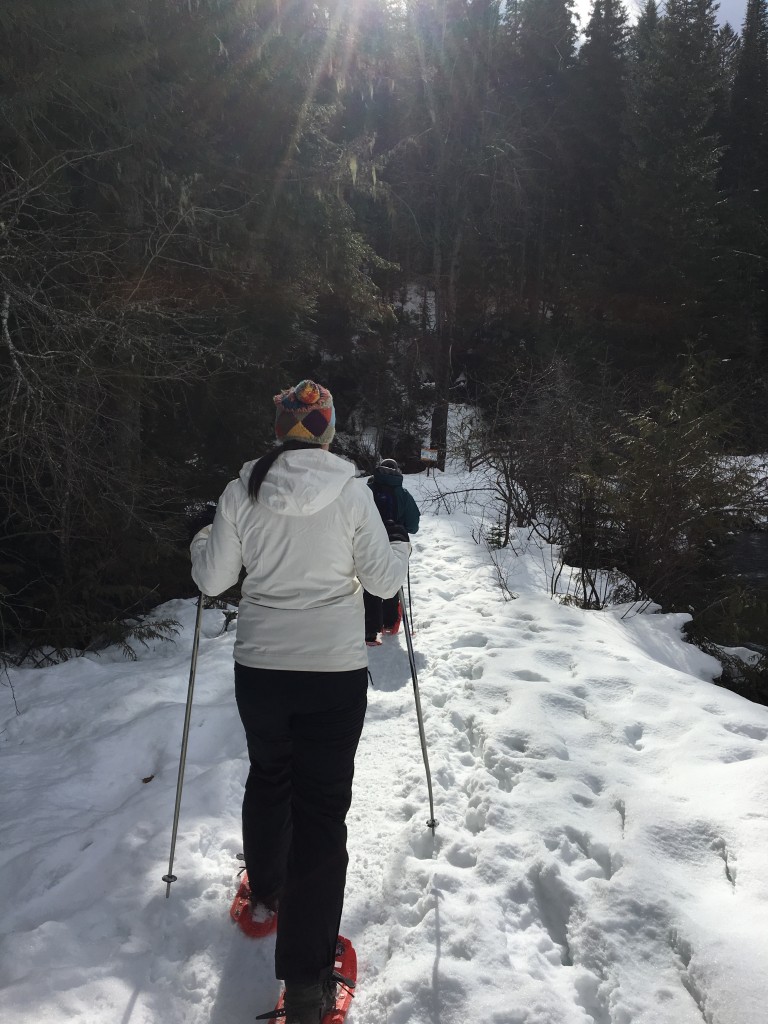 Right off the bat our guides were throwing awesome facts at us about our surroundings in the area like how the well known "Lizard Creek" was actually named incorrectly as there are no lizards in the creek but rather Long Toed Salamanders. However, I think we can all agree that "Long Toed Salamander Creek" doesn't roll off the tongue as easily! We moved onwards and reached a popular waterfall spot along the creek. Personally I have visited this park quite a bit in the summer for hiking, but it was like a brand new trail thanks to the snow and ice blanketing the area. That's one of the reasons why snowshoeing is so cool – you get to experience your favourite spots in a whole different light.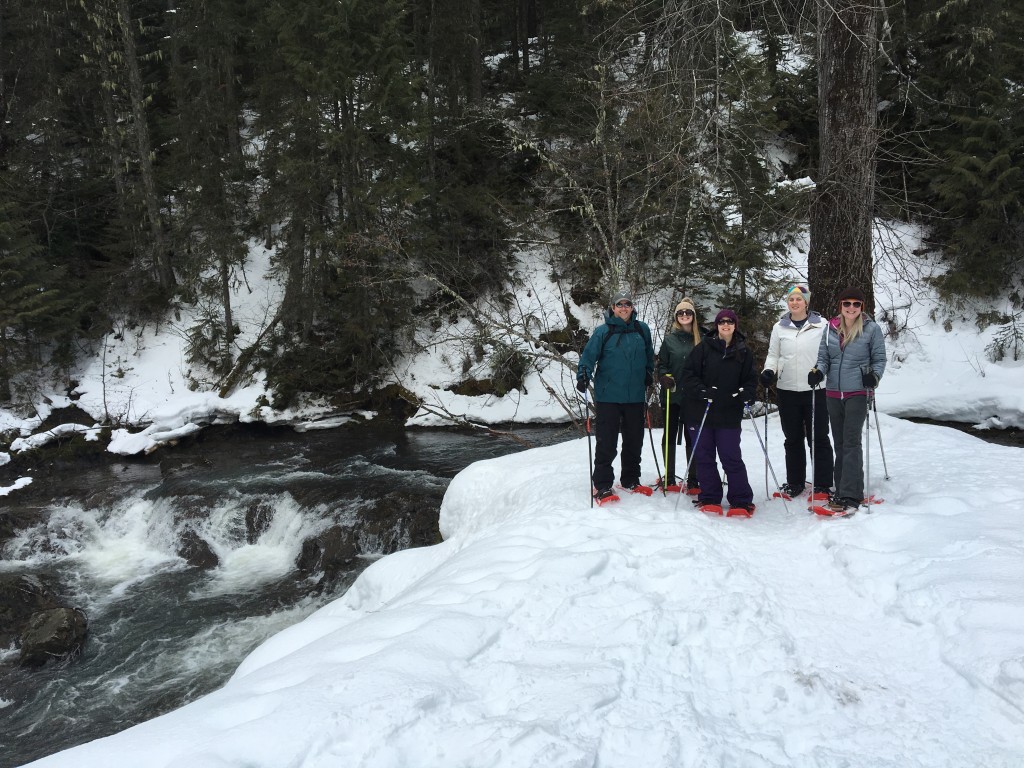 We then carried on to our first uphill section. With our new abilities on inclines we felt like masters and got up with ease. Ayla gave us some quick history and showed us massive trees that had been chopped down for lumber in the 50's. Apparently the area was a hot spot for lumber back in the day but eventually got shut down due to frequent train derailments.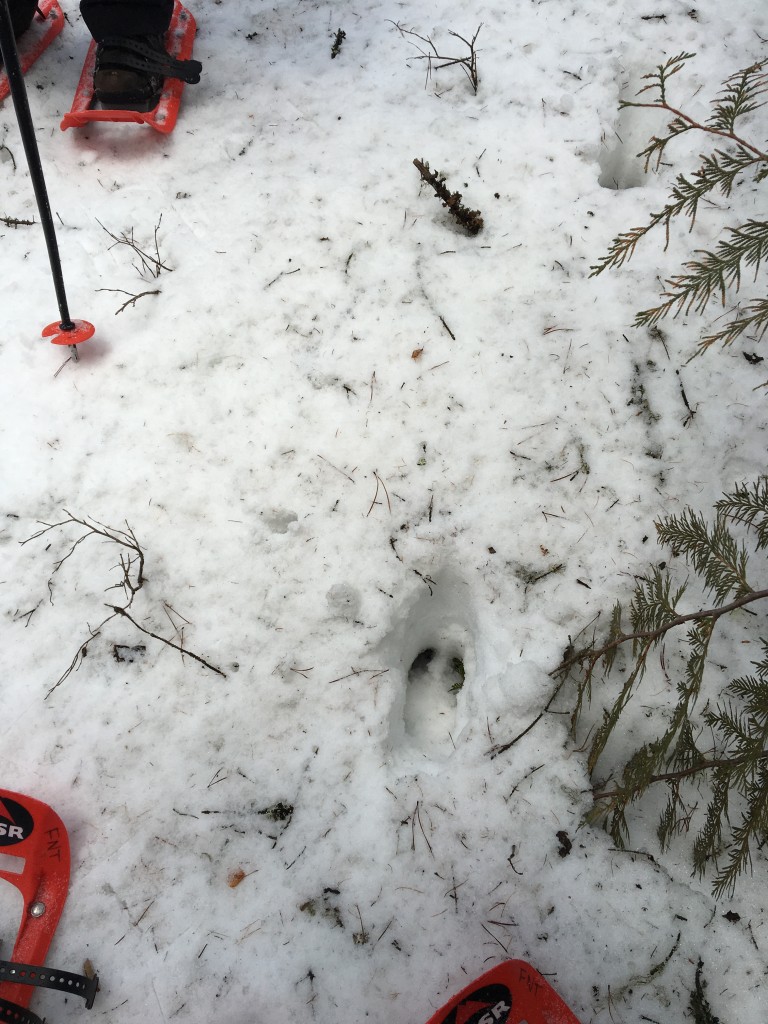 Moving deeper into the forest, Ayla quizzed us on animal track identification. We learned that this large, deep print indicates a heavier animal that stays around during the winter. This animal with out a doubt belonged to the majestic moose. Ayla continued on to share her knowledge about how during the difficult months of winter, animals in Canada have few choices for survival; adapt, flee, or hibernate.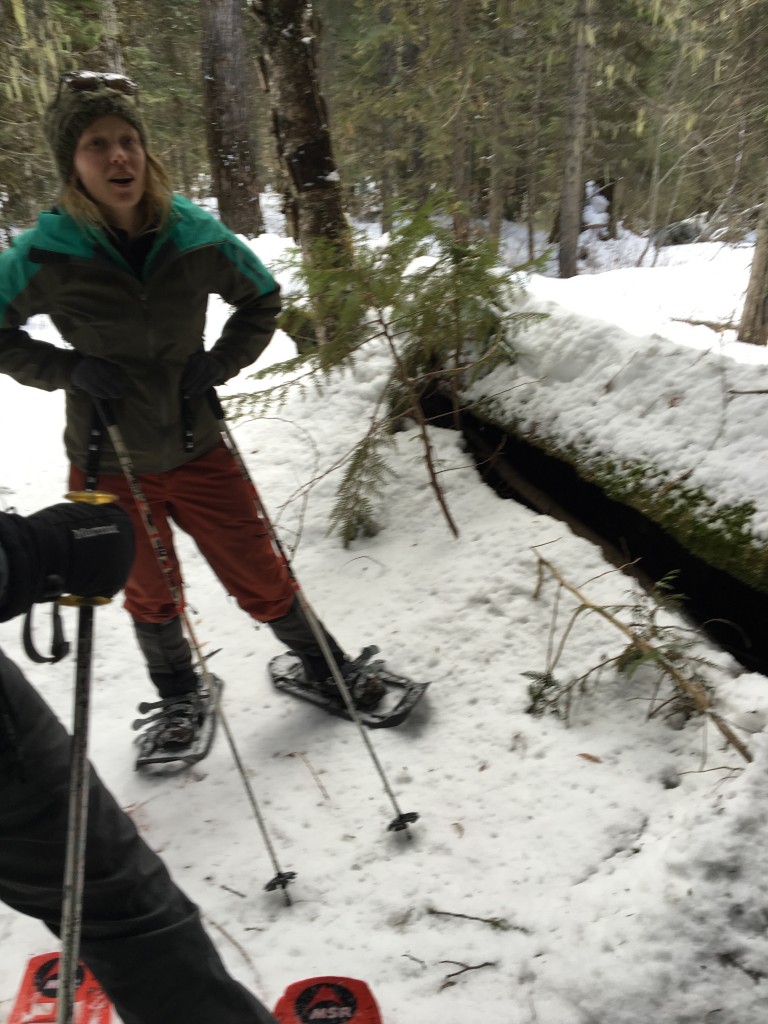 Next stop was a hollowed out tree. We learned that during the winter bears are often found in places like this tree, and contrary to popular belief only semi-hibernate. We we given the wise advice to never stick your hand in any dark, hollowed out stump or tree in the forest unless you were willing to part with a mitten (or a hand!).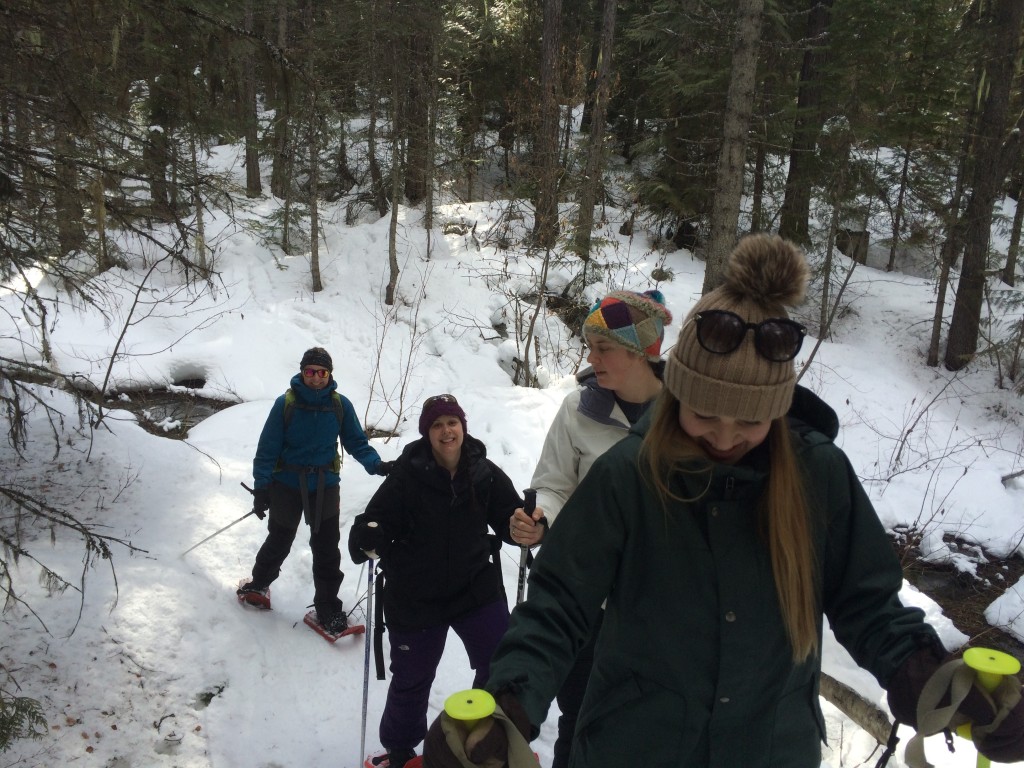 Our guides took us forward and gave us a couple of new challenges/lessons. First off was how to get over an obstacle on the path; plant your poles in the snow and then ease over the object. Kelly, one of our front desk ladies, showed no fear and  leaped across the fallen tree in one bound, impressing our guides. The next challenge was crossing a creek on a skinny log. In order to keep yourself from having a chilly bath in the water you need to plant your feet one in front of the other, like you would on a tight rope. Fortunately, we all stayed dry and continued on.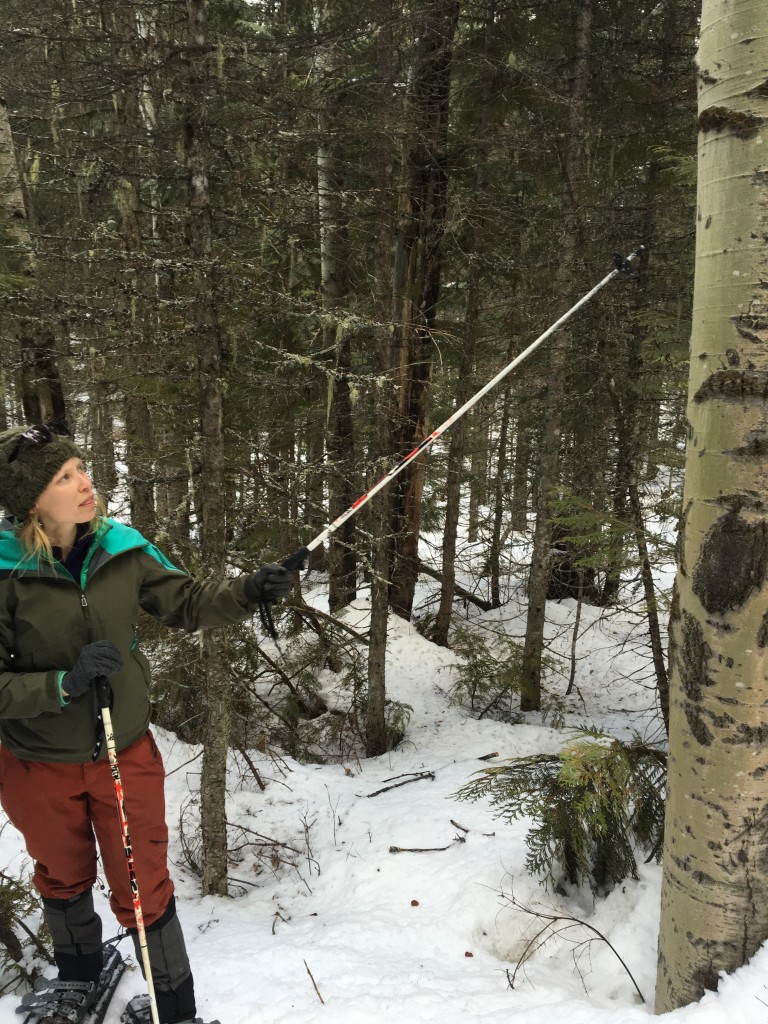 Throughout the whole tour, our guides pointed out various trees and their distinguishing characteristics. The trembling Aspen – often confused for a Birch tree – was the first shown. The tree exhibits scars all over its bark from baby bears learning how to climb. It is essential for bear cubs to learn to climb as soon as possible to escape from predators.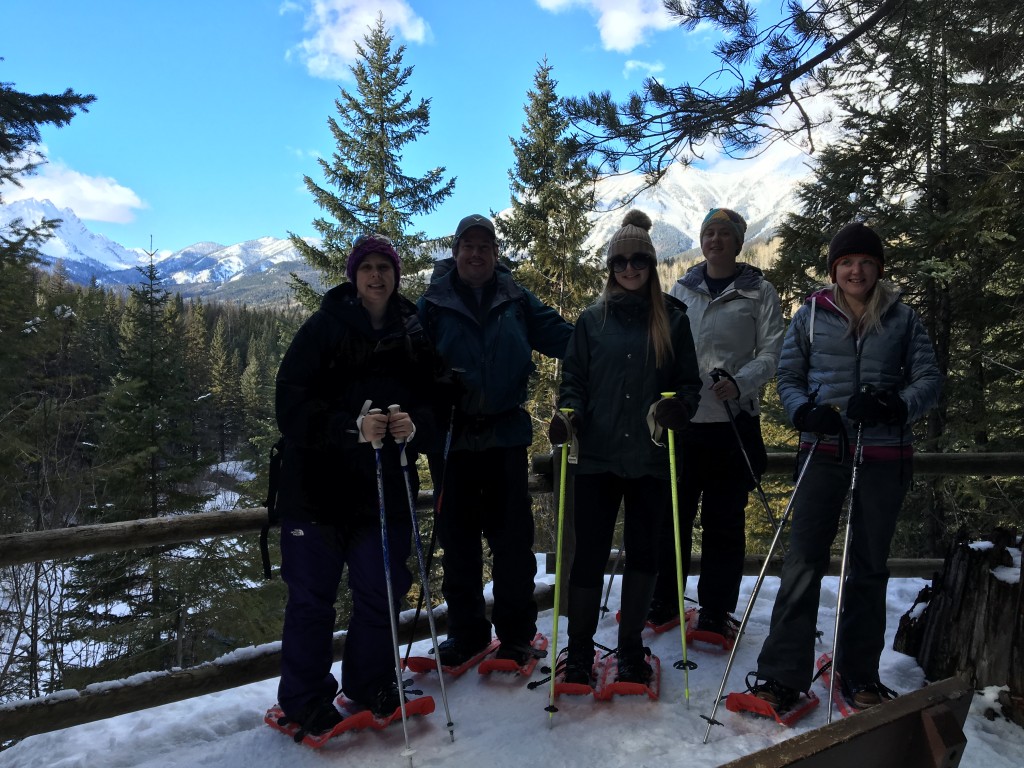 Just look at those mountains behind us!
Just up ahead was our next lookout. It was a stunning vista of mountains and valleys displayed wonderfully against a sunny blue sky. We were told about the history of the old ski hill and the process of creating the new and current one.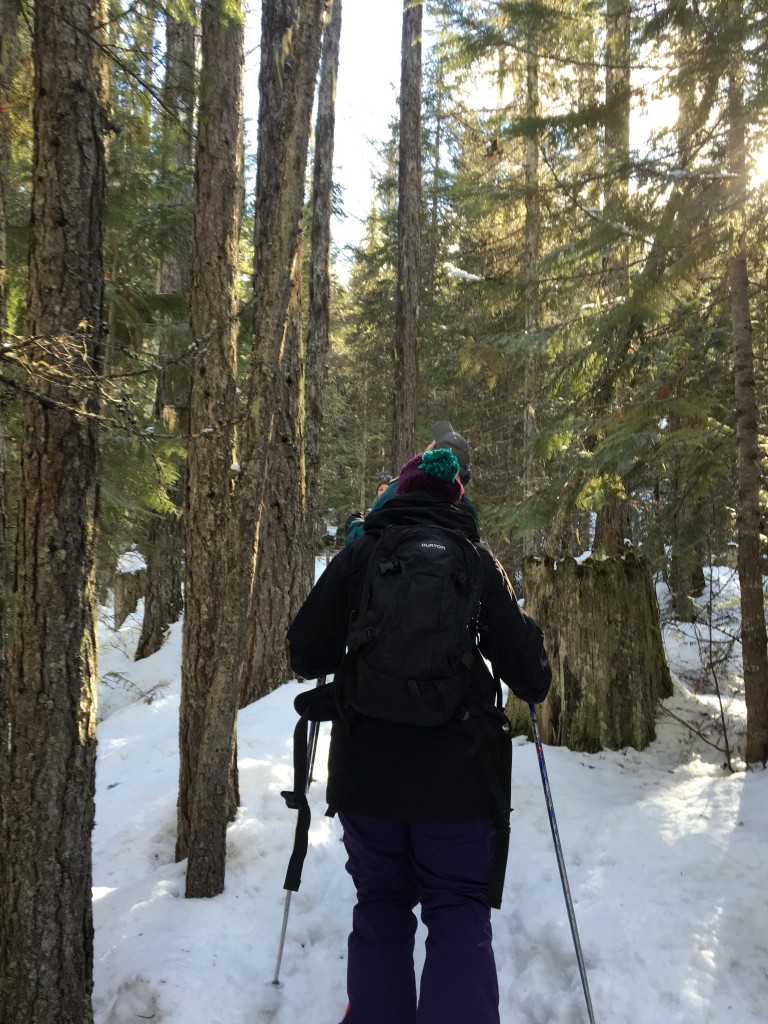 We spent the next hour or so walking through the forest to the tune of the guides' knowledge, stopping every so often to learn something new and interesting about a different tree. The passion our guides had for the environment was made evident through the endless facts they poured out about the trees around us that would normally fade into the canvas of forest on any other day. It was really awesome to have such enthusiastic people taking us on our Snowshoe Safari!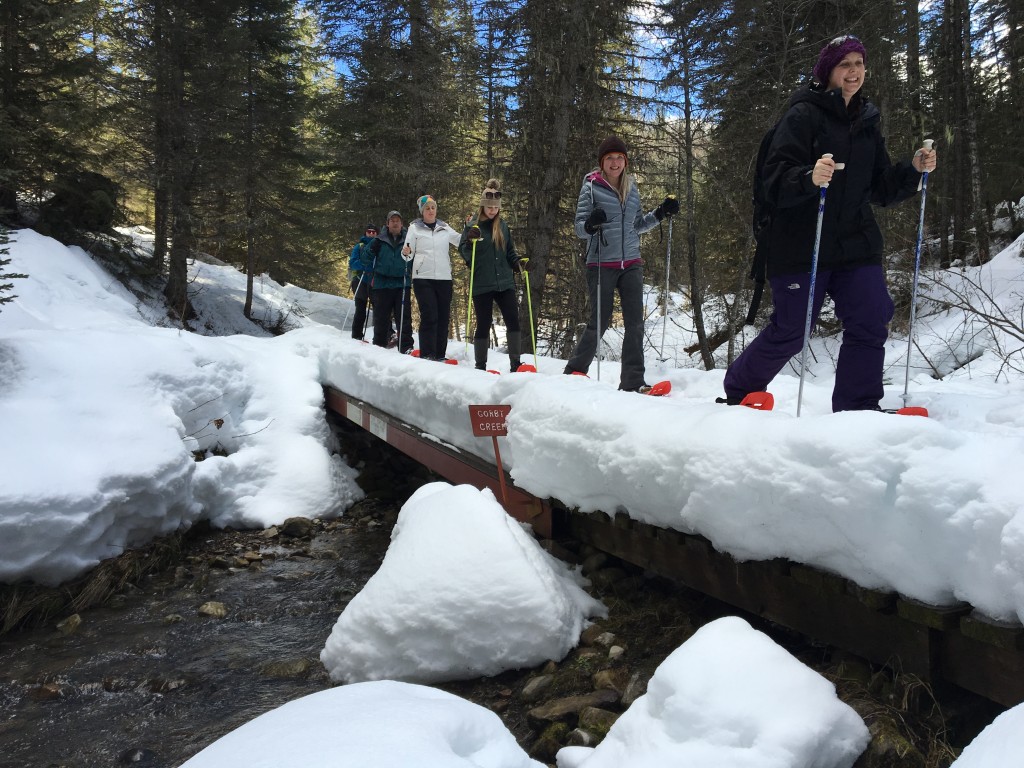 Next stop was Gorby Creek. Ayla was quick to run ahead and crouch down to get this neat photo of the Red Tree Lodge crew, crossing the bridge like pros. My camera died soon after this point so I was unable to document the rest of the trip. We did however stop in a sunny spot by the river for a delicious snack of homemade cookies, apple cider, and hot cocoa – provided by our lovely guides. We spent a while just basking in the sun, munching and sharing stories. I think one of the best things of the experience was how it felt like we were out with a bunch of friends (who happened to know a lot of facts) on a snowshoe adventure, rather than a strict, time-constricted tour. Ayla and Chalice were so involved and genuinely happy to be there with us. All of us had a great time on a fun-packed, educational snowshoe safari.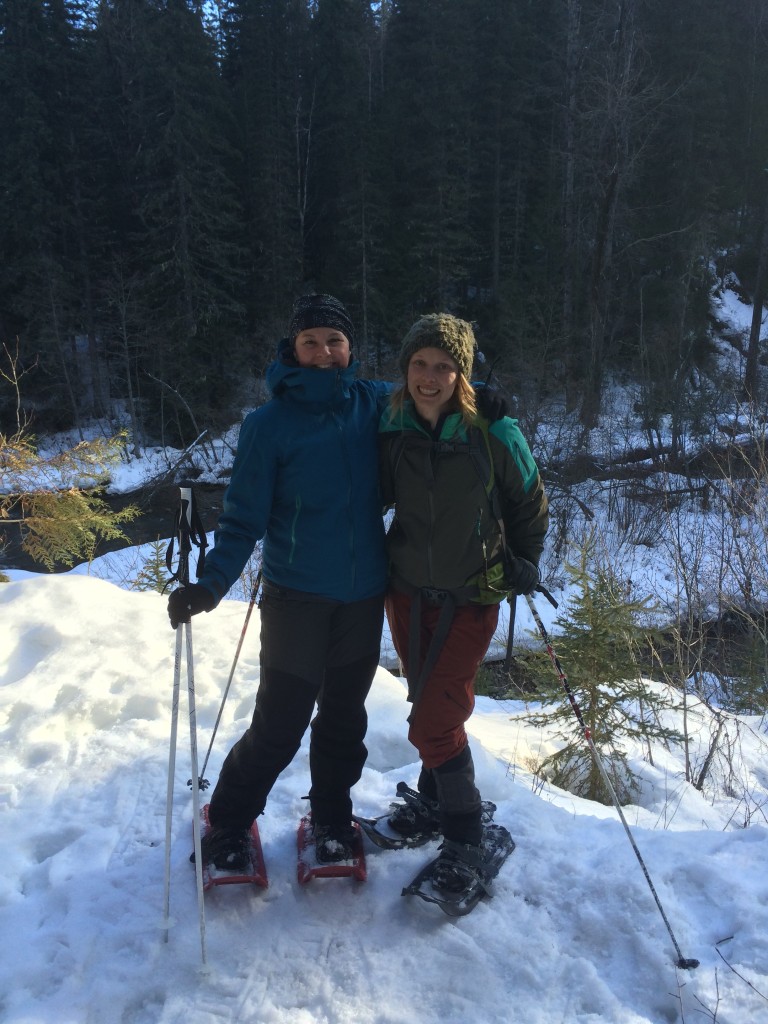 Be sure to check out Wild Nature Tours to make your booking!