FERNIE SPA DAY!!! For the girls… Sorry Jon, for leaving you behind to man the Front Desk. We really appreciate it! And off the Front Desk Girls go, to award winning Spa 901 for an amazing day out! It was Kelly, Ash, Jody, our new Deskie Laura, and I. What an awesome way to welcome Laura to our team!
Award Winning Fernie Spa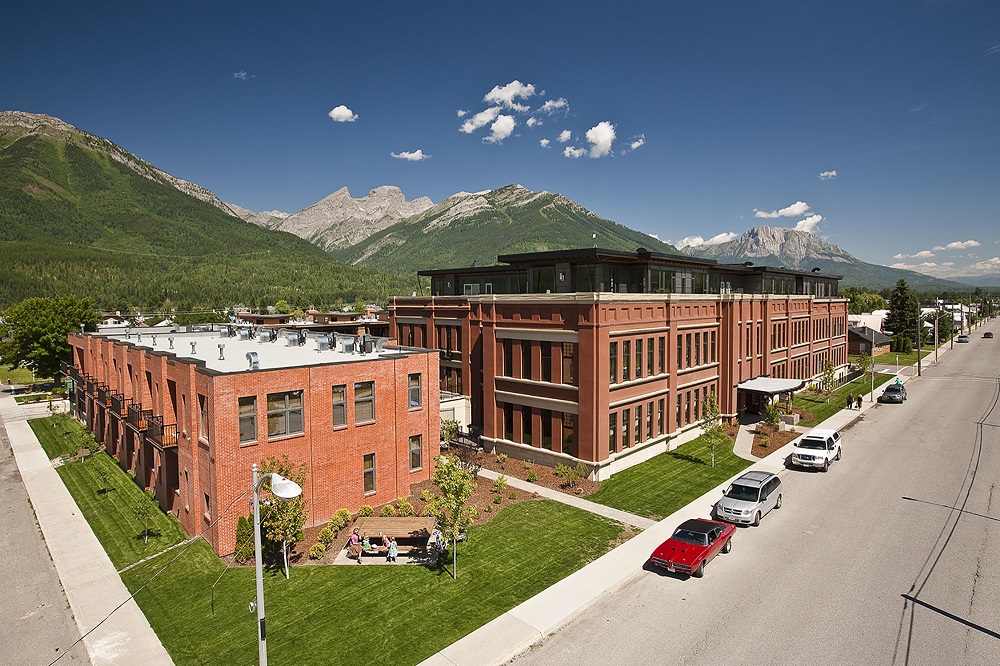 Spa 901 is an award winning Fernie spa which has won accolades such as Top 25 Spas in Canada 2016 at the Canadian Wellness Awards and the Community Leadership Award 2016 by the Fernie Chamber of Commerce, as well as many more. They offer a full list of treatments and services for their clients to choose from. Well done girls!
Off to the Spa!
Sit back, relax, and read about our day. We started by meeting at the Red Tree Lodge before we jumped in the car and made our way to Spa 901, about a 5-minute drive away located in the heart of downtown Fernie. This was my first visit here and I immediately noticed how lovely the building is. It turns out this building is a renovated historic schoolhouse built in 1908, and they have certainly made it into a special place! The brickwork is stunning and a feature in many of the residential apartments as well. We were greeted by Jessica at reception – such a friendly welcome and warm environment. We filled out our forms and left our snowy boots at the door to turn instantly into ladies of leisure. The floors are a lovely polished wood and we meandered downstairs following a big sweeping staircase.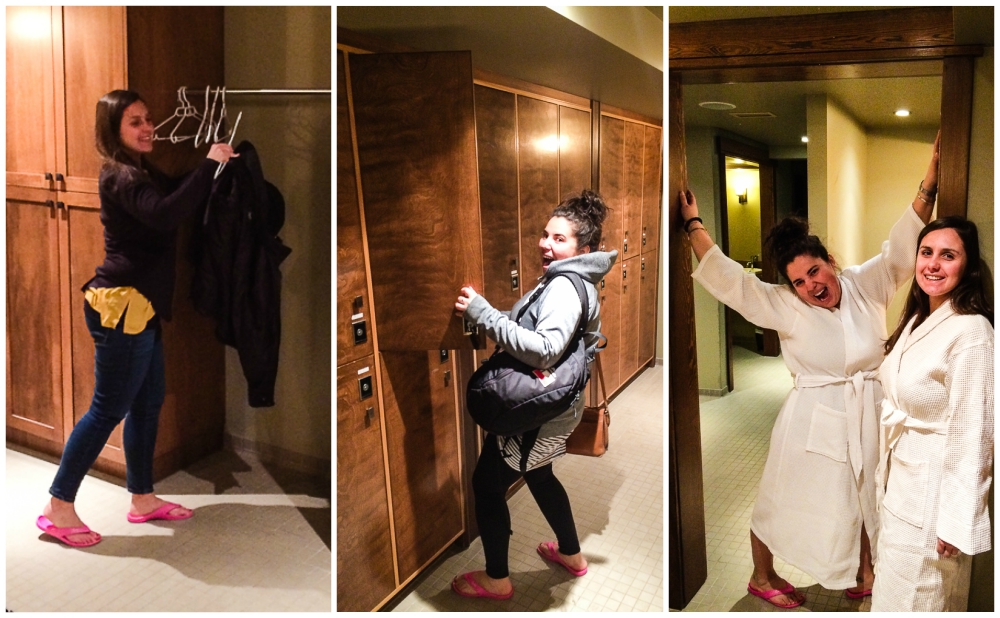 We were each given a pair of jandals (flip flops, thongs whatever you call them!) to slip into and Jessica gave us a walk-through of the Spa and all the beautiful recreational rooms they have on offer for spa dates, wedding parties, stagettes, and whatever else you want! The fire, blankets, and soft lounge chairs were so inviting. We then slipped into our robes and the first stop was a cup of tea while we waited for our appointments. Ashley and Kelly opted for manicures, while the rest of us went for massages.
Manicure Treatments
Here is what Ash had to say about her Manicure experience: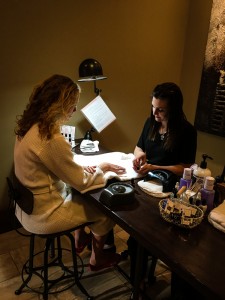 The manicure began with a big welcome from Jess. I instantly felt at ease with her and asked for her recommendation picking a colour for my desperately in need of repair nails. We decided to go for something a little dark red/ purple and sparkly (it is the festive season after all). I found out that Jess has lived in Fernie for 8 years and is co-owner of the Fernie spa. She has a ton of knowledge about Fernie but is also very experienced in the beauty industry.
The treatment focused on more than just my nails and cuticles, and included a forearm and hand massage during which all the clicks in my fingers were taken out. However, my new favorite part was the Signature Parafin Manicure. My hands were placed into warm wax in a bag, and after 7 or so minutes, Jess slowly pulled the bag away so the cooled wax slid off my hand! I noticed immediately that they smell and feel amazing! Then it was time for the painting, with polish that slid on smoothly and set quickly. The whole treatment took almost an hour and I love my nails. I think I will have to make this a more regular thing.
In addition to the treatments we also made use of the large steamy outdoor hot tub. The near naked dash from inside to outside was chilly! But once our toes hit the water it was utter bliss. We got the multiple jets going (including the overhead jets) and had a good long soak. We really loved our pampering session and decided we had better make the most of the showers as well as the products provided – minty fresh everywhere!
Personally I felt like I had left my usual life and had been on another planet for a few hours. I was well entirely getting ready for a good night's sleep!
Massage Treatments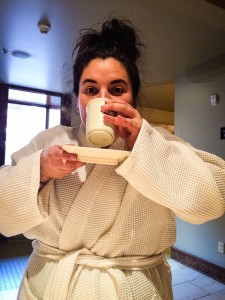 Wow, Ash made that sound so dreamy and it truly was! I opted for the Massage, and I will soon have to go back for another! I see you can "Enhance Your Experience" with some small extras, for example a Argan Oil Scalp treatment or Invigoration Foot Scrub and many more. How lush, I should be a lady of leisure more often, I think! My masseuse's name was Jin; she asked me if I had any problem areas and where I wanted her to work on the most. To start, I jumped into a heated bed all cozy and warm, and was then lathered in peppermint oil. She focused on my lower back neck and shoulders. I was so relaxed that I fell asleep at one stage. How could you not just unwind?
After my massage, I met the other girls in the Relaxation Room, where I flopped onto the couch with my body feeling light as a feather and a warm cup of tea that was the most delicious thing I had tasted! It was Sweet Macaroon. I tried to buy more but Kelly bought the last one they had on our way out! It was so good.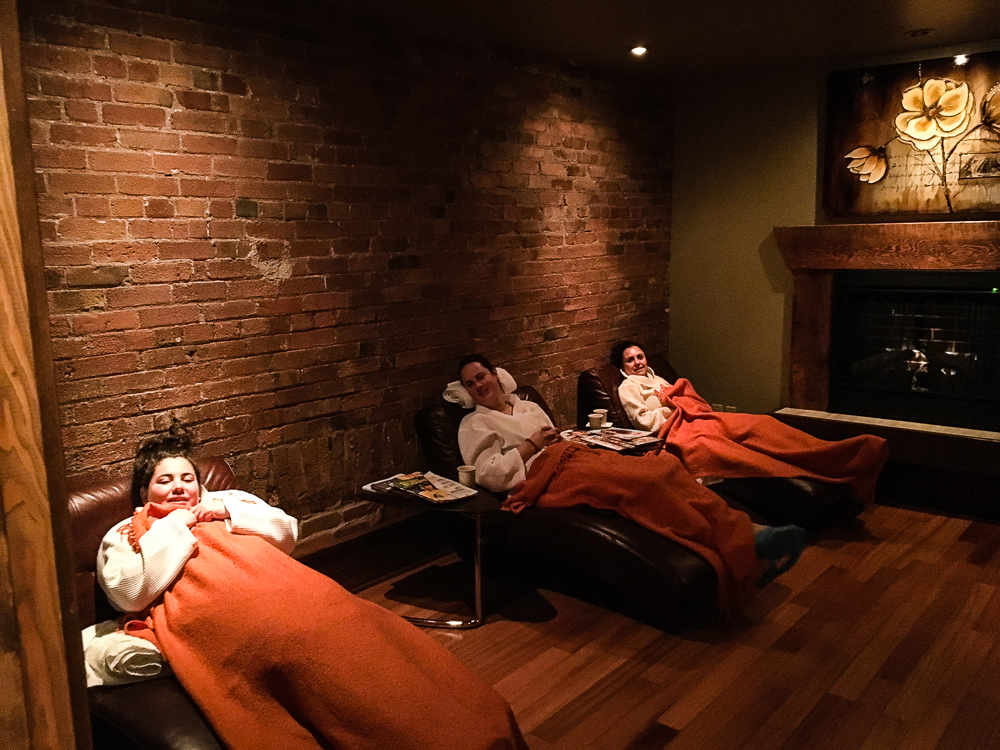 We had such a great experience at Fernie's Spa 901 and we will be repeat customers for sure. When you make it to Fernie make sure to take a look, and even book yourself into a pamper session! Thanks Spa 901 for being amazing, accommodating, and having really great friendly staff.