Calling all thrill-seekers! Looking for adventure on your next trip to Fernie? Well, all the fun isn't reserved just for winter! How does scaling up tall trees to try balance, jump, climb and clamber your way through an obstacle course? What about screaming down a Zipline at up to 60km per hour? If this sounds like your ticket then you absolutely need to check out the Fernie Alpine Resort Aerial Park & Zipline.
During the hot summer months, Fernie Alpine Resort turns into a thrill-seekers playground with Mountain Biking trails, Hiking trails, Aerial Park, a Zipline and more. This months Red Tree Lodge Deskie adventures took us to check the Aerial Park & Zipline out.
Fernie Alpine Resort Aerial Park
Suit up
On what turned out to be one of the hottest days of the season our team arrived at the resort ready to start our adventure. The Aerial Park team suited us up into our safety gear before taking us on up to the Park. Walking up to the Aerial Park, the teams anticipation was clear; "Actually, I'm not sure if I am scared of heights", "Will this thing actually catch me if I fall?" "Is my butt strap tight enough?".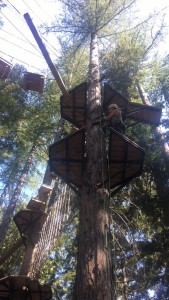 There are 23 features (obstacles), three Ziplines and one Leap of Faith ranging from beginner to advanced levels to make your way around. Lucky for us, the Aerial Park guides have a feature set-up nice and low to the ground that allows up to practice. We were shown how to attach ourselves and our buddy to and from features safely and then set free on the course.
Time to climb
Standing at the bottom of the tree and getting ready to make the first climb is where the adrenaline starts to pump a little. The hands get a little sweaty and the stomach fills with butterflies. However, once we nailed the first climb and feature, we had the swing of it. Each feature got a little more challenging and a little higher in the trees than the previous one. This was much more a team building experience than I realised. The higher and harder the features got, the louder the encouragement from the Red Tree and Aerial Park teams were!
Even if you are okay with heights, there are features for all levels that will really push you outside of your comfort zone. The feeling of accomplishment and reward was awesome after getting across the difficult features!
Rescue Procedures Test
One of the harder features is called the 'Swinging Islands'. You need to somehow ninja across swinging platforms while holding onto ropes.  At this point our manager Jody decided to check the Aerial Parks rescue procedures….by falling off one of the islands! Okay so she may not have actually wanted to check the rescue procedures but we appreciate her commitment to this blog. Looking like a 'hang in there baby' cat poster, Jimmy from the Aerial Park team managed to pull some swift rescue moves and get Jody back to safety, just in time for his lunch break! And thanks to Jody, I knew to by-pass this feature as there would have been two rescues! You can see why the 'Swinging Islands' became our favourite feature to talk (ahem…laugh) about.
Fernie Alpine Resort Zipline
Rippin' the Zip
The Aerial Park does have three Ziplines, two of which will get you down from the features in the trees. Cruising down a Zipline from 40ft in the air is definitely the fun way to get down.

If you are wanting to really 'Rip the Zip', check out the Zipline set up near the Mini Moose run! After our fun at the Aerial Park, we made our way up to the top of the Mini Moose run. Locked and loaded we each had our turn taking off from down 555ft Zipline and hitting speeds up to 60km/h on the way down. The breeze was certainly welcome on such a hot day! And the screams, well, they were a necessity on the way down!
Just when you thought the fun was over, you need to catch a 'Tru Blue' system down off the Zipline platform. Both the Aerial Park and Zipline have these 'Tru Blue' systems which are aptly named the 'Leap of Faith'. The system is designed to catch you as soon you take a walk off the platform.  Jumping off platforms and having complete faith in the gear that connects you is not for the faint hearted. But it sure is fun!!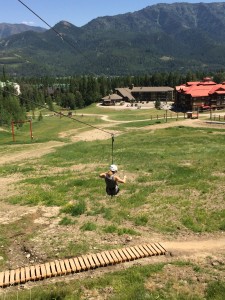 TIP
The Aerial Park and Zipline are run by different teams. You need to complete waivers and receive safety information and gear for each activity. See the team at Guest Services to chat where to go and who to meet.
Tourism Fernie
If you're planning your getaway to Fernie, check out the Tourism Fernie website. The website is loaded with information about Activities, Culture, Events, special Packages and Offers. There is even a planning tool that will help give you fantastic ideas on what to do.
At Red Tree Lodge, we use the Tourism Fernie website to plan our adventures and check up to date event information. You can find tons of information about the Fernie Alpine Resort Aerial Park & Zipline including dates of operation, rates, height/weight restrictions and more!
If you are looking for a challenging yet family friendly/team building adventure, then definitely head up to the Fernie Alpine Resort Aerial Park & Zipline this summer! The fantastic Aerial Park & Zipline teams will ensure you have an amazing time. And let's be honest, there is nothing quite like the hilarity of watching your boss be rescued by Jimmy!