Golfing in Fernie

Nothing beats being outside in the fresh air, golfing in Fernie on a beautifully groomed course and hitting some balls with the whole mountain range cheering you on. Golf season is in full swing and the front desk ladies at the Red Tree Lodge took a day to check out the Fernie Golf & Country Club. The 6,556 yard/par 70 course is located on the north side of Fernie with a full pro-shop and the Clubhouse Restaurant. It challenges the better golfer but still caters to beginner-average level. We were greeted by the friendly pros and sent on our way to the driving range which is just a short walk from the shop. Even though most of us front deskies were borderline amateurs, we had a ton of fun practicing our swings while enjoying the majestic view.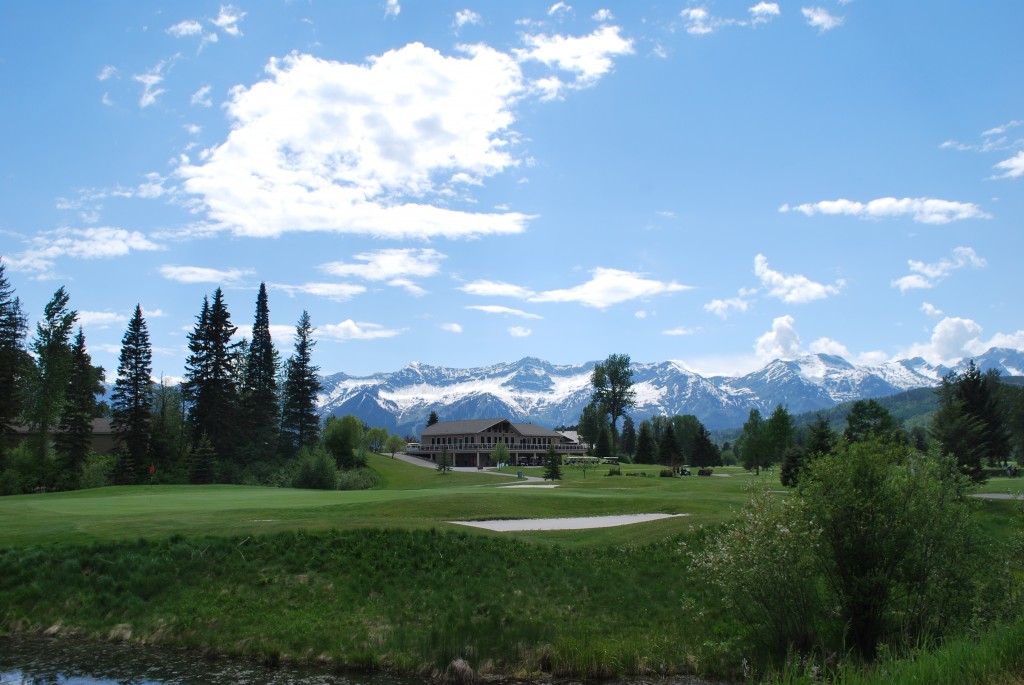 Any picture you take while golfing in Fernie will have an amazing backdrop of the mountains. Here you can see the Clubhouse with its famous patio in front of Fernie's ski hill!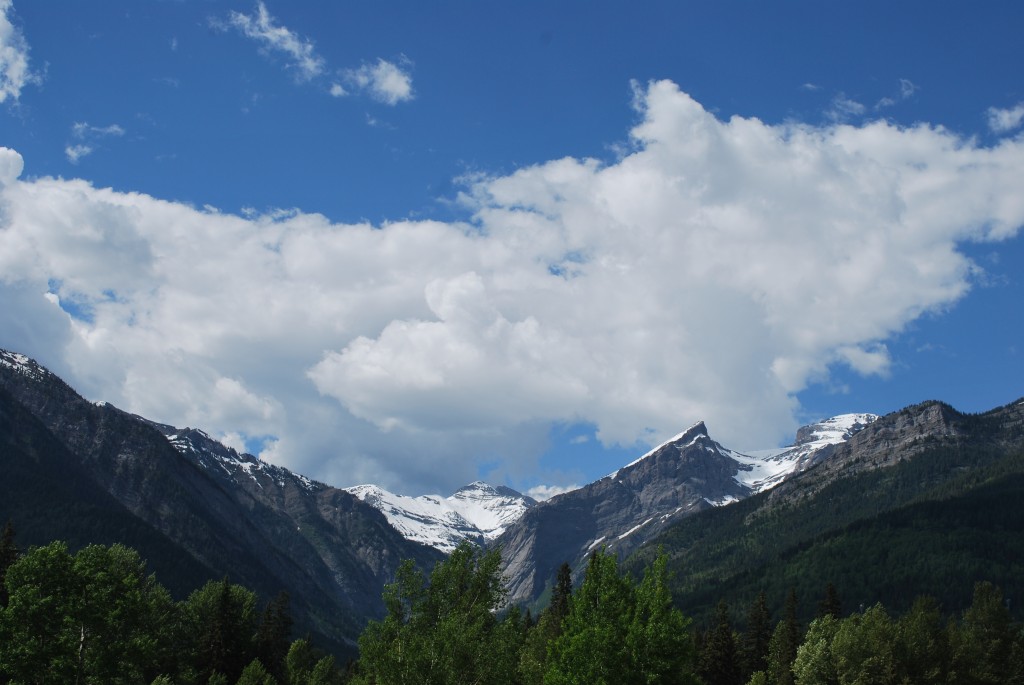 Told ya! (Maybe I should have spent more time improving my golf skills instead of taking all these pictures)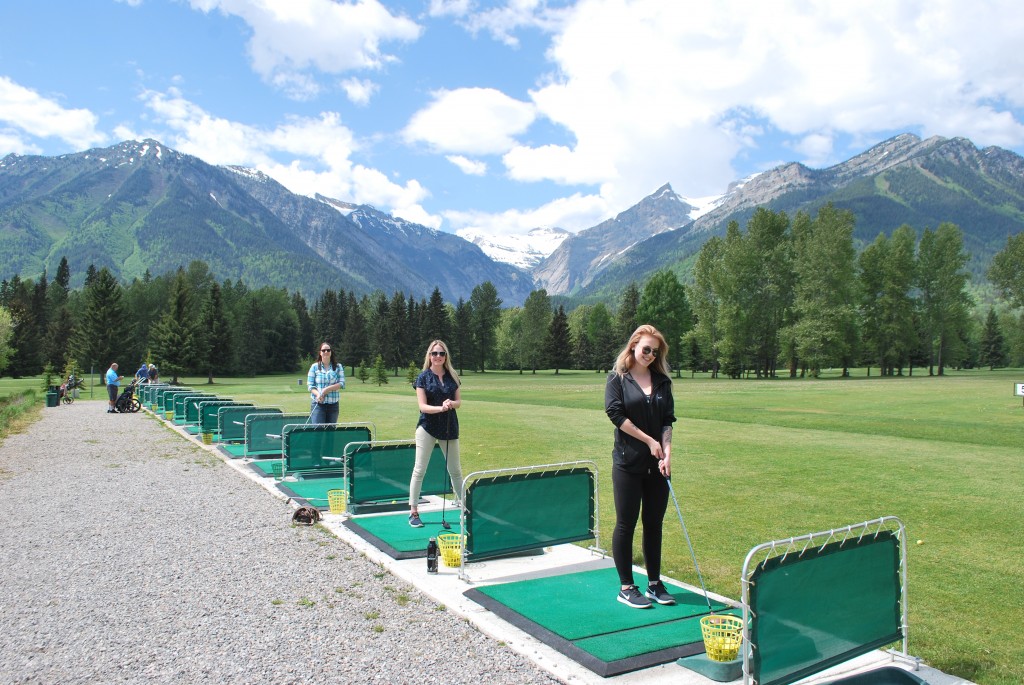 Here we have the team getting ready to unleash our talent upon Fernie Golf & Country Club. The driving range was clean and well kept and was an awesome way for us newbies to get out and have a taste of the golfing life. We unfortunately didn't try out the full course, but we saw just the right amount of people whizzing around in golf carts. While boasting large, well-groomed green turf the course shows it's unique qualities by featuring paths allowing you to drive through woodland areas and wildlife (such as foxes and fowls) making casual appearances.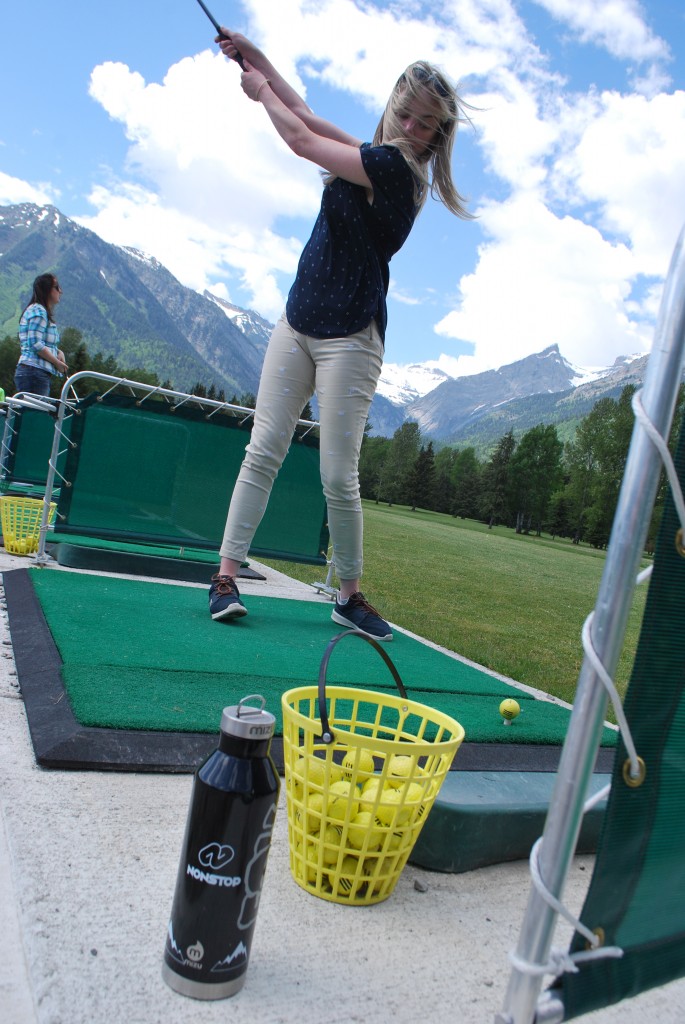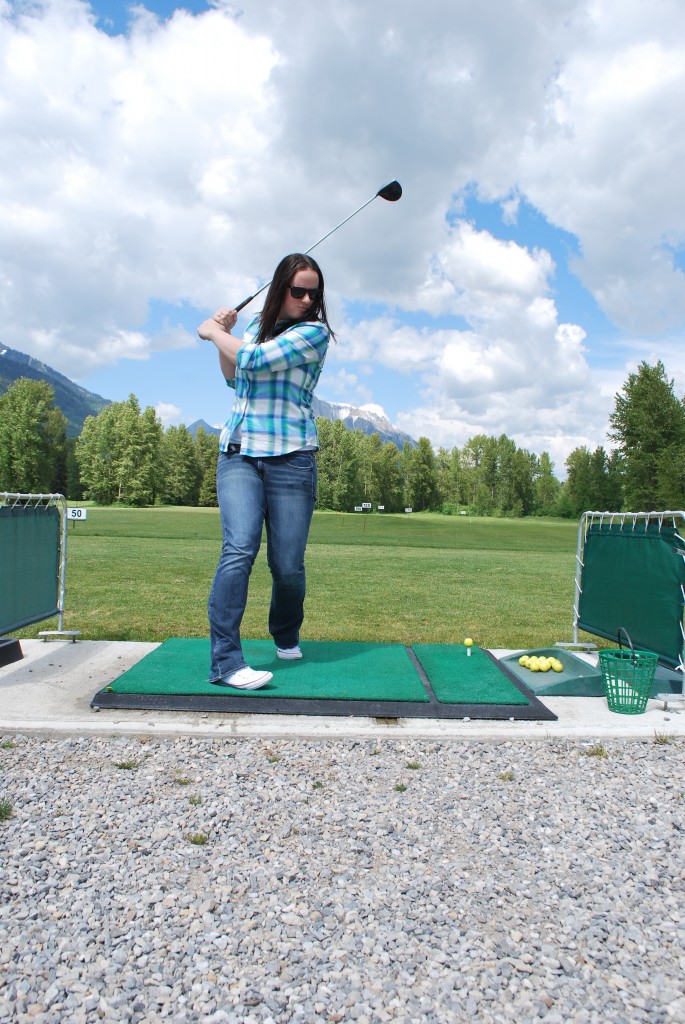 The competition got hot as hidden talents were revealed. Fore!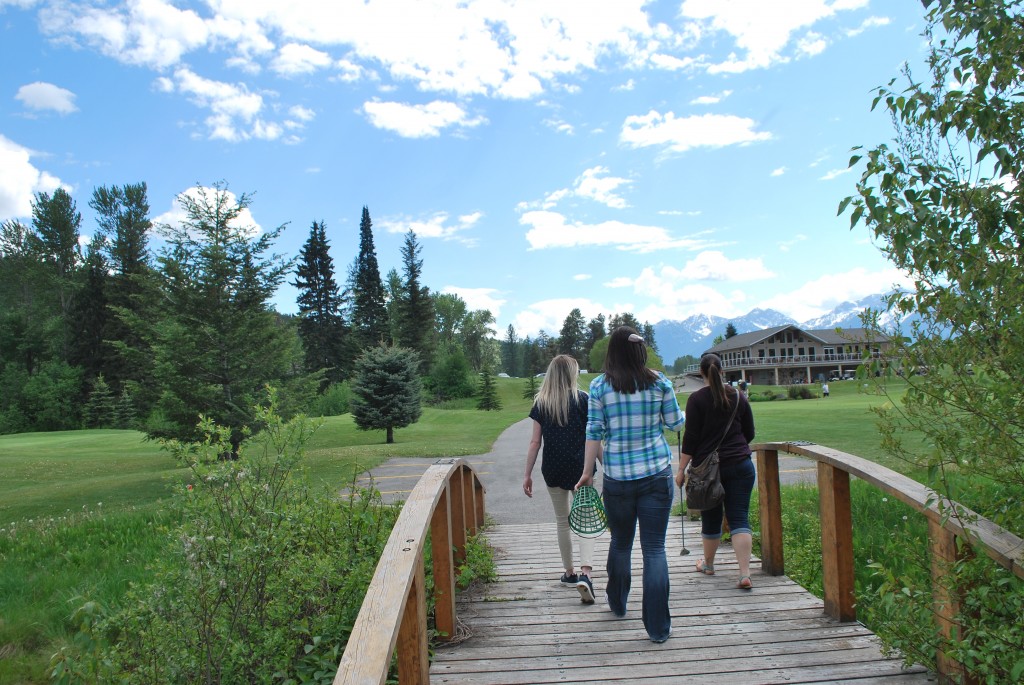 No longer amateurs, we returned our gear to the shop and headed on up to the Clubhouse to refuel our bodies.
The Clubhouse Restaurant
With our buckets of balls emptied onto the driving range, we decided to reward ourselves with some beers and appies on the Clubhouse's restaurant deck. Even if you aren't keen on golf, the restaurant itself is something that should be checked out by everyone. It has delicious food, friendly service and an AMAZING view of all the mountains. It wraps around the whole Clubhouse too so you can choose your view as you sip on a refreshing beer.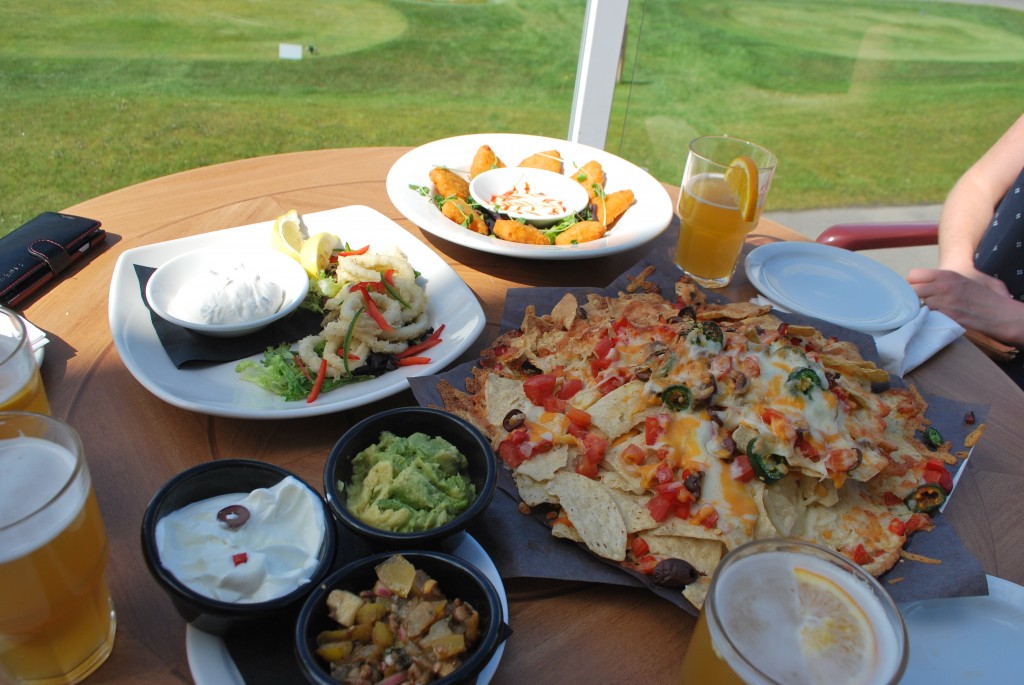 Our food was just as good as it looked. The Clubhouse menu is very well done!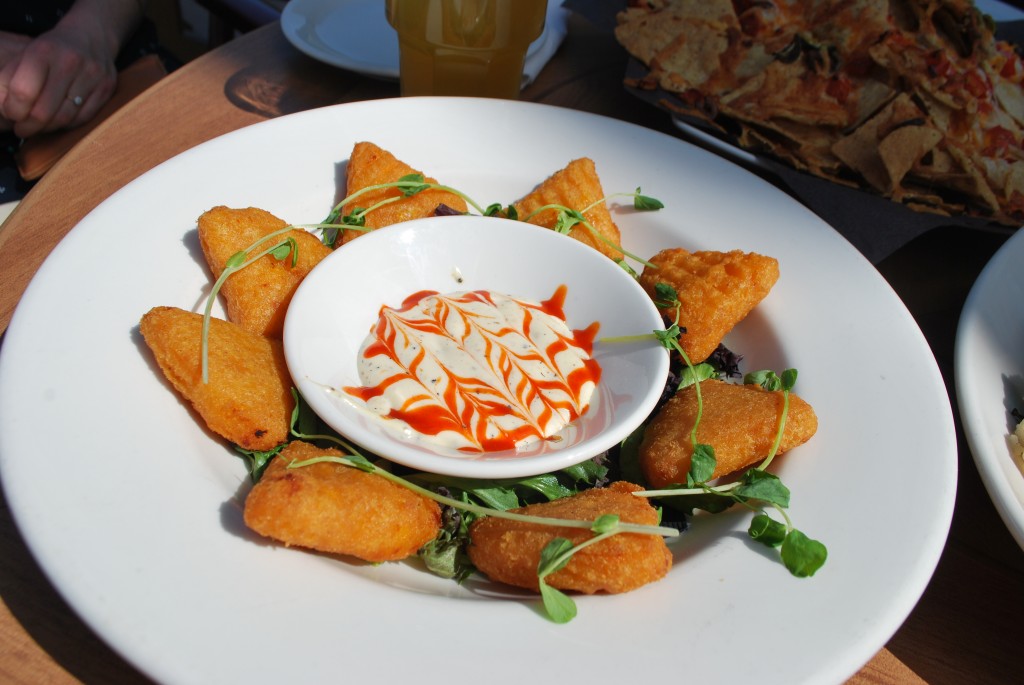 It was very hard to get this shot before everyone got their hands on the tasty bites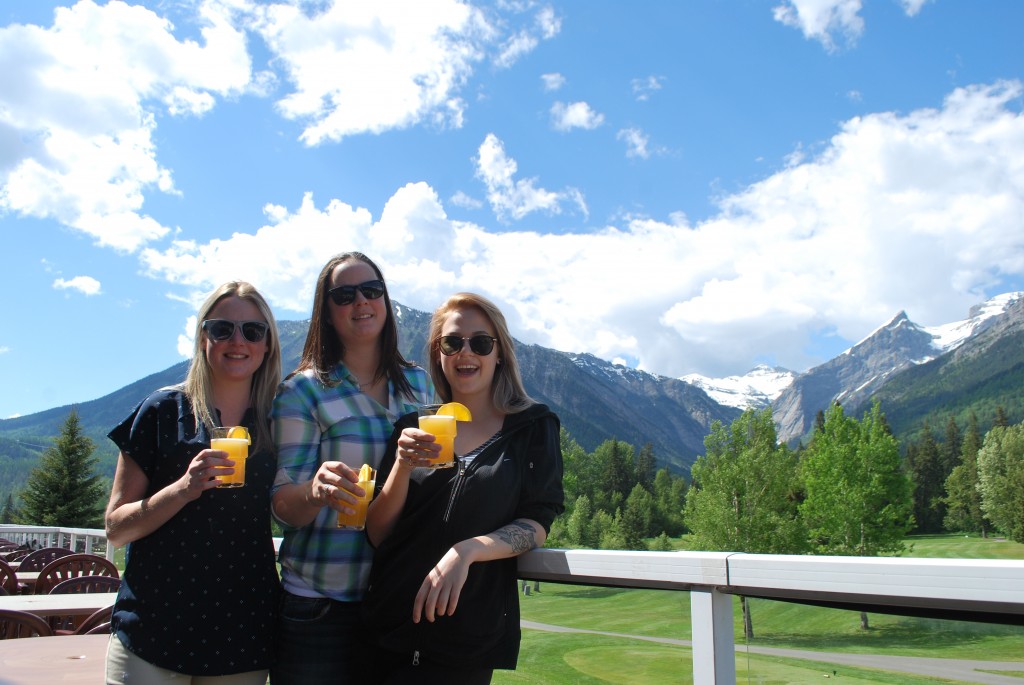 Three Deskies having a drink with the Three Sisters!
The Perfect Afternoon Tee Time
Overall the Fernie Golf & Country Club is a wonderful place filled with friendly staff, well groomed greens and tasty food. The course is even rated in the top 25 BC courses, so naturally it should be added as a must-see for your next golf vacation. One of my favourite aspects of Fernie is how it's jam packed with tons of activities to always mix things up and keep you challenged. I am as new as it gets to golf but I had tons of fun and I even think I improved in my short visit! Maybe next time to step my game up I will wear some special golf socks…you know, the ones with the hole in one?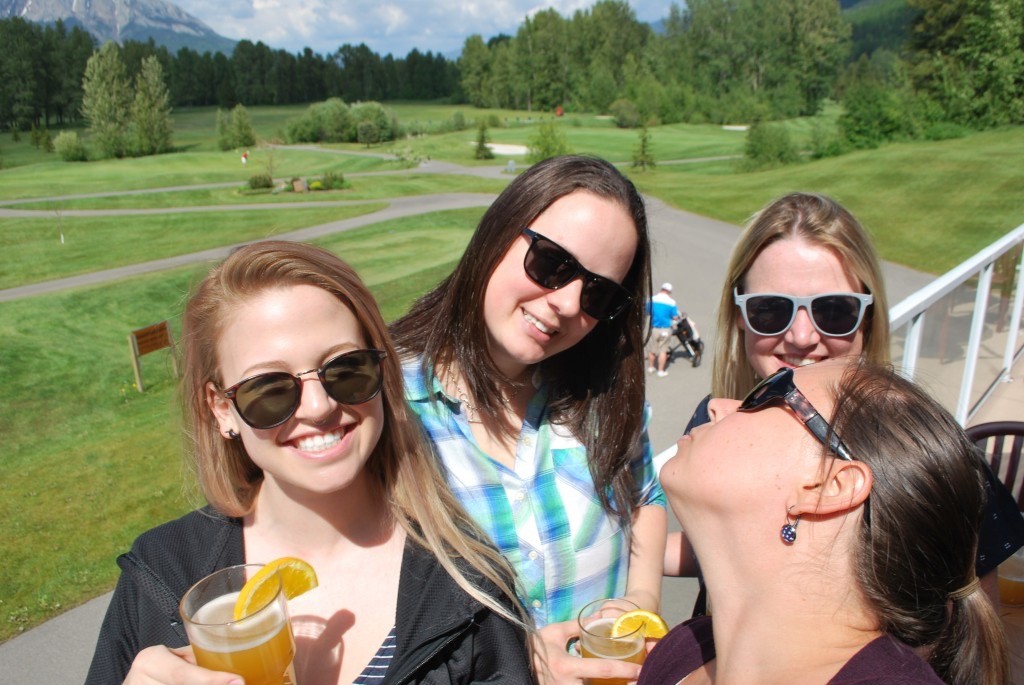 Thanks for the awesome time Fernie Golf & Country Club!
Fernie Stay and Play Golf Package
Thinking of heading down to Fernie for a Golf Adventure? For the 2016 season you can go golfing in Fernie and get a 2 night accommodation and 2 rounds of golf at Fernie Golf & Country Club starting at only $149 per person. Visit our accommodations specials page for more information and be sure to give us a call to book now!